Review Sinopsis The Legend Of The Blue Sea – Berbicara drama Korea fikiran kita akan langsung membayangkan cerita romantis. Sebenarnya ada berbagai genre dari drama Korea dan semua menarik untuk untuk ditonton. Tapi memang, yang selalu menjadi favorit penonton adalah drama korea komedi romantis. Selain karena ceritanya segar, menghibur, dan ringan menjadikannya tidak membosankan untuk dilihat.
Detail Drama:
Judul Drama : 푸른 바다의 전설 / The Legend of the Blue Sea
Tema / Genre: Romance, Comedy, Fantasy
Jumlah Episodes: 20 + 1 Special
Channel Penayang : SBS
Jadwal Tayang : 16 November 2016 sampai 25 Januari 2017
Tayang setiap hari Rabu dan Kamis, jam 22:00 KST
Sinopsis Singkat The Legend Of The Blue Sea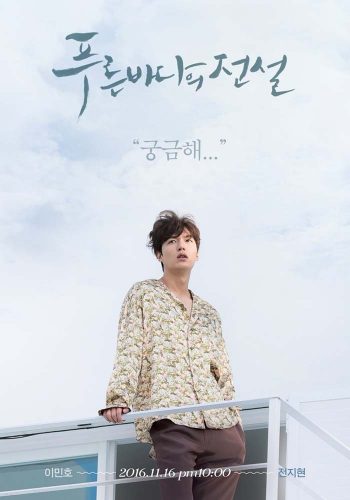 Drama The Legend Of The Blue Sea menceritakan tentang putri duyung yang jatuh cinta pada seorang manusia. Kisah ini bisa dibilang tidak terlalu ringan karena memiliki dua setting waktu yang berbeda. Pada satu sisi berada di era modern, sedangkan pada sisi lain pada kehidupan jaman dinasti joseon. Dua era atau jaman ini saling berhubungan satu sama lain.
Namun sang sutradara cerdas dengan menciptakan alur yang disajikan dengan sangat simple. Jadi penonton akan lebih mudah untuk memahami. Sehingga terkesan drama ini sangat easy, begitu mudah untuk diikuti. Penonton akan diajak untuk belajar tentang apa itu pengorbanan dan perjuangan. Karena di sini yang dilakukan oleh di putri duyung yaitu Shim Cung saat berjuang untuk menunjukkan perasaan cinta dan menepati janjinya.
Cerita ini terinspirasi dari legenda jaman Joseon klasik tentang kisah sejarah, tentang seorang nelayan yang menangkap putri duyung. Drama korea ini menceritakan kisah cinta antara anak seorang keluarga bangsawan Joseon bernama Kim Dam-ryeong yang diperankan oleh Lee Min-ho dan putri duyung bernama Se-hwa yang diperankan oleh Jun Ji-hyun.
Dikisahkan ketika Dam-ryeong semasa kecil, saat bermain di pantai ia hampir tenggelam tetapi berhasil diselamatkan oleh putri duyung. Cerita mulai berjalan, mereka saling kenal dan menjadi teman. Dam-ryeong menamainya Se-hwa, menurut nama adik perempuannya. Mereka akhirnya jatuh cinta.
Konflik dalam cerita mulai muncul ketika Dam-ryeong dipaksa oleh keluarganya untuk menikahi gadis lain. Hancur dan haru biru karena berita tersebut, Se-hwa memutuskan meninggalkan Dam-ryeong untuk selamanya. Keduanya menghapus semua kenangan dan ingatannya tentang Se-hwa dan cinta mereka.
Namun takdir berkata lain hingga membawa mereka kembali bertemu. Kisah pertemuan mereka juga seru, hingga mereka mencoba melarikan diri dari kejaran manusia yang ingin memisahkan mereka kembali. Ketakutan terus menghantui mereka tentang takdir pahit yang akan kembali menimpa dirinya dan Se-hwa. Kemudian Dam-ryeong mengirim sebuah artefak yang akan ditemukan di masa depan, tujuannya untuk mencoba dan memperingatkan diri masa depannya.
Cerita berlanjut hingga Tadkir Dam-ryeong dan Se-hwa kembali terjalin dengan inkarnasi ke zaman modern mereka. Diceritakan bahwa Dam-ryeong terlahir kembali sebagai Heo Joon-jae, sosok seorang penipu menawan. Ia juga bertemu dengan sosok putri duyung yang mirip dengan Se-hwa. Kemudian ia namai sang putri duyung dengan nama Shim-chung, kejadian itu ada di Spanyol.
Kejadian aneh dialami oleh sang penipu, dia bemimpi tentang artefak misterius. Selanjutnya Joon-jae mempelajari dunia Dam-ryeong dan takdirnya. Ia pun mencoba untuk mencengah terjadinya tragedi yang sama agar tidak kembali menimpa dirinya dan Shim-chung.
baca: 43 Daftar Drama Korea Komedi Romantis Terbaru 2017 Terbaik Rating Tinggi Terpopuler
Official Trailer / Teaser / Preview
Pemeran The Legend Of The Blue Sea
Pemain Utama:
Jun Ji Hyun memerankan Shim Chung
– Kal So Won memerankan Sim Chung (anak)
– Shin Eun Soo memerankan Shim Chung (muda)
Lee Min Ho memerankan Heo Joon Jae
– Jeon Jin Seo memerankan Heo Joon Jae (anak)
– Jin Young memerankan Heo Joon Jae (muda)
Lee Hee Joon memerankan Jo Nam Doo
Shin Won Ho memerankan Tae Oh
Pemerana Pendukung:
Lee Ji Hoon as Heo Cha Hyun
Hwang Shin Hye as Kang Seo Hee
– Oh Yun Ah as Kang Seo Hee (muda)
Choi Jung Woo as Heo Gil Joong
Na Young Hee as Mo Yoo Ran
– Shim Yi Young as Mo Yoo Ran (muda)
Shin Hye Sun as Cha Shi Ah
Moon So Ri as Ahn Jin Joo
Lee Jae Won as Cha Dong Sik
Sung Dong Il as Lord Yang (innkeeper) / Ma Dae Young
Park Hae Soo as Hong Dong Pyo (detektif)
Sinopsis Drama The Legend Of The Blue Sea Episode 1-Tamat
baca: 4 Film Korea Romantis Terbaik, Lucu Bakal Bikin Baper. Kamu Udah Nonton Belum?
Sinopsis Drama Korea Episode 1 | Sinopsis
Sinopsis Drama Korea Episode 2 | Sinopsis
Sinopsis Drama Korea Episode 3 | Sinopsis
Sinopsis Drama Korea Episode 4 | Sinopsis
Sinopsis Drama Korea Episode 5 | Sinopsis
Sinopsis Drama Korea Episode 6 | Sinopsis
Sinopsis Drama Korea Episode 7 | Sinopsis
Sinopsis Drama Korea Episode 8 | Sinopsis
Sinopsis Drama Korea Episode 9 | Sinopsis
Sinopsis Drama Korea Episode 10 | Sinopsis
Sinopsis Drama Korea Episode 11 | Sinopsis
Sinopsis Drama Korea Episode 12 | Sinopsis
Sinopsis Drama Korea Episode 13 | Sinopsis
Sinopsis Drama Korea Episode 14 | Sinopsis
Sinopsis Drama Korea Episode 15 | Sinopsis
Sinopsis Drama Korea Episode 16 | Sinopsis
Sinopsis Drama Korea Episode 17 | Sinopsis
Sinopsis Drama Korea Episode 18 | Sinopsis
Sinopsis Drama Korea Episode 19 | Sinopsis
Sinopsis Drama Korea Episode 20 | Sinopsis | TAMAT
*Bila ada link salah silahkan komentar
Rating Legend Of The Blue Sea
Date
Episode
TNmS
AGB
Nationwide
Seoul
Nationwide
Seoul
2016-11-16
1
15.4% (4th)
18.9% (3rd)
16.4% (4th)
18.0% (2nd)
2016-11-17
2
16.2% (4th)
20.1% (3rd)
15.1% (4th)
16.4% (4th)
2016-11-23
3
16.6% (4th)
19.6% (2nd)
15.7% (4th)
17.2% (4th)
2016-11-24
4
17.9% (4th)
21.3% (3rd)
17.1% (4th)
18.4% (3rd)
2016-11-30
5
16.4% (4th)
18.4% (2nd)
16.8% (3rd)
18.5% (1st)
2016-12-01
6
18.1% (2nd)
20.2% (1st)
18.9% (2nd)
22.1% (1st)
2016-12-07
7
15.8% (4th)
18.1% (2nd)
17.4% (2nd)
19.2% (1st)
2016-12-08
8
17.4% (3rd)
19.7% (1st)
17.4% (2nd)
19.1% (2nd)
2016-12-14
9
14.8% (5th)
16.4% (2nd)
16.6% (2nd)
18.8% (2nd)
2016-12-15
10
16.8% (4th)
19.2% (2nd)
17.5% (2nd)
19.3% (2nd)
2016-12-21
11
17.7% (3rd)
20.1% (2nd)
16.7% (3rd)
18.1% (2nd)
2016-12-22
12
16.3% (4th)
18.0% (2nd)
17.3% (3rd)
18.7% (2nd)
2016-12-28
13
15.8% (4th)
18.4% (2nd)
16.0% (4th)
17.2% (3rd)
2017-01-04
14
15.1% (4th)
18.1% (3rd)
17.8% (3rd)
18.7% (2nd)
2017-01-05
15
15.9% (3rd)
19.4% (2nd)
18.3% (3rd)
20.1% (2nd)
2017-01-11
16
15.1% (4th)
19.0% (2nd)
18.9% (3rd)
20.7% (2nd)
2017-01-12
17
18.9% (3rd)
22.2% (2nd)
20.8% (2nd)
23.0% (2nd)
2017-01-18
18
16.5% (3rd)
18.4% (2nd)
18.3% (3rd)
19.9% (2nd)
2017-01-19
19
18.7% (3rd)
20.4% (2nd)
21.0% (2nd)
22.2% (2nd)
2017-01-25
20
16.2% (4th)
18.4% (2nd)
17.9% (3rd)
18.8% (2nd)
Nah, inilah sekilas tentang drama serial televisi The Legend of the Blue Sea yang asyik dan enak ditonton. Semoga bisa menjadi inspirasi dan menambah