An Ode To My Father full movie dibintangi oleh Hwang Jung Min dan Kim Yunjin. Film ini merupakan penggambaran tentang sejarah Korea modern. Diceritakan dari tahun 1950 hingga sekarang dalam sebuah kehidupan seorang pria biasa.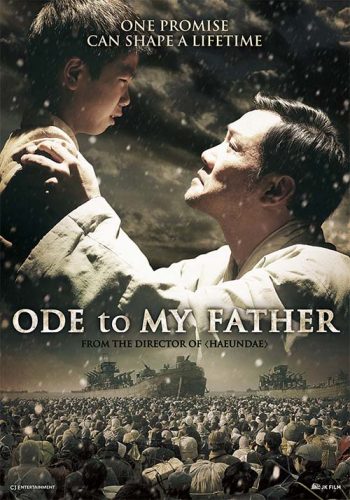 Detail Film:
Judul Film : Ode to My Father
Romanisasi yang Direvisi : Gukjesijang,
Sutradara : Yoon Je-kyoon
Produser : Yoon Je-kyoon, Park Ji-seong
Penulis : Park Su-jin
Sinematografi : Choi Young-hwan
Penyunting :Lee Jin
Distributor : CJ Entertainment
Tanggal rilis : 17 Desember 2014
Durasi : 126 menit
Negara Asal : South Korea
Bahasa : Korean, English, German, Vietnamese
Rating: 7.5 (via imdb)
Proses pengambilan gambar Ode to My Father diawali pada tanggal 3 September sampai dengan 25 Desember 2013. Lokasi pengambilan di Busan, di tempat itu pula sutradara Yoon Je-kyoon sebelumnya pernah melakukan syuting untuk Miracle on 1st Street (2007) dan Busan (2009).
baca: 5 Drama Korea Romantis Komedi Terbaik Sepanjang Masa, Drakor Lawas Paling Rekomended
Rilis perdana film ini diselenggarakan di Korea Selatan tepatnya pada tanggal 17 Desember 2014 dan berhasil menduduki puncak box office. Pemutaran film tersebut berhasil mencapai raihan 1,5 juta penonton. Pencapaian itu diperoleh dalam waktu lima hari pertama dengan pendapatan atau laba kotor ₩1.5 billion.
Film ini bertahan berada di peringkat pertama dalam lima minggu berturut-turut. Walaupun menghadapi persaingan dari berbagai film rilis baru. Ada catatan pada tanggal 13 Januari 2015, 10,001,709 penjualan tiket. Sehingga berhasil menempati peringkat film negeri kesebelas, capaian 10 juta penerimaan dalam sejarah Korea Selatan.
Di Amerika Utara, film ini pernah ditayangkan di Los Angeles pada tanggal 31 Desember 2014. Penayangan di luar Korea ini berhasil menarik lebih dari 6.000 penonton selang empat hari rilis. Penontonnya sebagian besar adalah generasi pertama Korea-Amerika, yang merupakan keturunan imigran. Mereka rata-rata telah berusia lima puluhan tahun atau lebih.
Catatan prestasi berhasil dirah kembali pada 9 Januari 2015. Keberhasilan ini meluas hingga sampai ke 43 kota di Amerika Serikat dan Kanada. Kota-kota tersebut seperti New York City, Washington DC, Boston, Chicago Seattle, Vancouver dan Toronto,.
Ode to My Father yang diakui sebagai Film keren ini juga pernah diputar pada sesi Panorama Festival Film Internasional Berlin ke-65, tepatnya pada bulan Februari 2015. Di antara penonton terdiri 20 etnis imigran Korea generasi pertama. Mereka adalah geberasi atau bagian dari yang mengalami peristiwa dalam film tersebut. Film ini tentu menuai beragam ulasan termasuk adanya kontroversi dugaan upaya untuk mengidealkan masa lalu di bawah kekuasaan rezim otoriter.
baca: 1001 Daftar Judul Drama Korea Terbaru 2018 Semua Tema Terlengkap
Official Trailer
Pemeran An Ode To My Father
Hwang Jung-min memerankan Yoon Deok-soo
Yunjin Kim memerankan Young-ja
Oh Dal-su memerankan Dal-goo
Jung Jin-young memerankan ayah Deok-soo
Jang Young-nam memerankan ibu Deok-soo
Ra Mi-ran memerankan tante Deok-soo
Kim Seul-gie memerankan Kkeut-soon
Lee Hyun memerankan Seung-gyu
Kim Min-jae memerankan Yoon Do-joo
Tae In-ho memerankan Yoon Gi-joo
Hwang Seon-hwa memerankan Yoon Seon-joo
Uhm Ji-seong memerankan young Deok-soo
Jang Dae-woong memerankan young Dal-goo
Shin Rin-ah memerankan young Mak-soon
Lee Ye-eun memerankan Yoon Seo-yeon
Film ini adalah tentang kisah cinta pertama yang diuji oleh perubahan zaman Perang Korea. An Ode To My Father merupakan film pertama yang penjualannya fantastis mkarena berhasil menyentuh angka 10 juta tiket sejak pendahulunya Haeundae pada 2009.