Review Sinopsis Black Knight The Man Who Guards Me – Serial drama Korea KBS2 terbaru dan gres yang akan tayang musim dingin 2017 ini berjudul "Black Knight". Drama korea terbaru ini akan tayang setiap hari Rabu dan Kamis pada pukul 22.00 waktu setempat. Serial TV ini akan menggantikan slot serial drama terdahulu yang berjudul "Mad Dog" yang telah di tayangkan perdana di 11 Oktober 2017.
Shin Se Kyung dalam serial drama ini menjadi pemeran utama wanita. Sedangkan sebagai lawan mainnya dihadirkan Kim Rae-Won yang pernah menjadi pemain dalam drama SBS 2016 "Doctors". Kemudian ia menerima tawaran untuk memainkan peran utama pria dalam Black Knight.
Keduanya akhirnya menjadi pemain utama setelah melalui beberapa negosiasi tentang tawaran tersebut. Shin Se Kyung menerima tawaran itu dan memerankan tokoh Jung Hae-Ra, dengan karakter sebagai pekerja pada biro perjalanan dan dia sebagai pendukung keluarga. Tokoh utama prianya bernama Moon Soo-Ho. Dia memulai peran dengan melewati masa kecil dalam kehidupan yang keras, tapi kemudian berubah menjadi seorang yang sangat sukses.
Shin Se Kyung sebelumnya juga pernah bekerja dengan penulis skenario "The Black Knight" yang bernama Kim In-Young. Ketika itu mereka bekerja sama untuk projek serial MBC 2013 yang berjudul "When a Man Loves". Oke, saatnya sekarang simak sinopsis drama Black Knight selengkapnya.
Detail drama
Judul : Black Knight
Judul Lainnya: Black Knight – The Man Who Guards Me
Tema / Genre: Fantasy, Romance
Jumlah Episode : 20 eps
Channel TV: KBS2
Jadwal tayang : 6 Desember 2017 sampai 8 Februari 2018
Tayang setiap hari Rabu dan Kamis, jam 22:00
Sinopsis Singkat Black Knight The Man Who Guards Me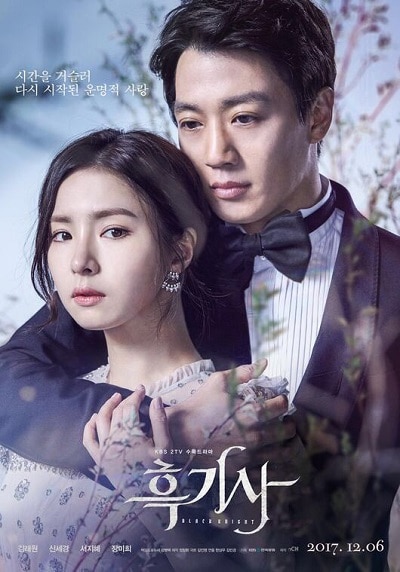 Drama ini bercerita tentang seorang yang berani mengambil resiko apapun demi wanita yang di cintainya. Sosok pria itu adalah Moon Soo-Ho (Kim Rae-Won) yang mengalami kehidupan dasa kecilnya dengan begitu keras dan tidak bahagia. Namun seiring berjalannya waktu kini ia telah menjadi pengusaha yang sangat sukses. Pada sisi yang lain ada Jung Hae-Ra (Shin Se Kyung) sosok seorang wanita penyayang keluarganya dan sebagai pekerja keras.
Tokoh Moon Soo Ho adalah sebagai pengusaha sukses dengan hati yang murni, tapi ia rela berjuang dan mempertaruhkan nyawa demi cintanya. Pertemuannya dengan Jung Hae Ra seorang agen perjalanan, tapi lucunya ia tidak pernah bepergian sampai ke luar negeri. Alur cerita dalam drama lebih fokus pada seorang pria yang rela menerima takdir berbahaya demi wanita yang dicintainya.
baca: Review Sinopsis Drama Seven Day Queen Episode Lengkap
Official Trailer / Teaser
Pemeran Pemain Black Knight
baca: Biodata Pemain Drama Black Knight: The Man Who Guards Me Lengkap
Pemain Utama
Kim Rae Won memerankan Moon Soo Ho
Shin Se Kyung memerankan Jung Hae Ra
Seo Ji Hye memerankan Sharon
Jang Mi Hee memerankan Jang Baek Hee
Kim Hyun Joon memerankan Choi Ji Hoon
Pemeran Pendukung
Hwang Jung Min as Lee Sook Hee
Kim Byung Ok as Park Chul Min
Shin So Yool as Kim Young Mi
Park Sung Hoon as Park Gon
Jung Jin as secretary Han
Han Ji Sun as Kang Joo Hee
Kim Kyul as chief director
Cha Chung Hwa as travel agency team leader
Kim Sul Jin as Yang Seung Goo
Sinopsis Black Knight The Man Who Guards Me Episode 1-Tamat
baca: 12 Drama Korea Romantis Terpopuler Bikin Nangis Baper Sepanjang Masa
==TAMAT==
Nah, inilah sekilas cerita tentang Black Knight The Man Who Guards Me. Drama ini sangat seru, selain alur ceritanya yang asyik, juga karena kisah cinta yang terbentang lebih dari dua ratus tahun. Sangat pas ditonton bersama orang-orang tersayang.