Hari itu, Mina datang kerumah Gijae yang pintunya tidak terkunci. Sesampainya ia didalam, ia mendengar ada seseorang berada di kamar mandi. Mina terkejut setelah melihat Kyutae yang keluar dari kamar mandi Gijae.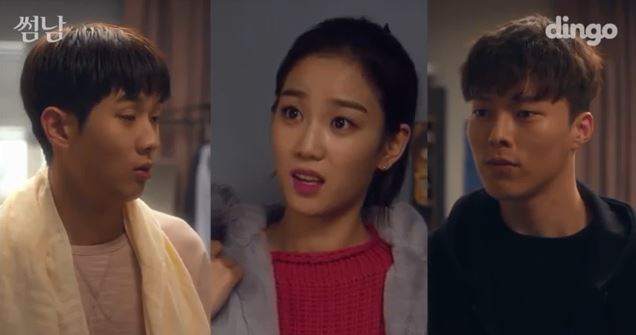 Kyutae menjelaskan kalau ia dan Gijae adalah tetangga. Tetapi Mina bingung, kenapa Kyutae mandi dirumah tetangganya. Kyutae menjelaskan lagi kalau ia dan Gijae terjebak di kamar mandi saat hari Natal. Mina tambah bingung melihat mereka berdua sudah dekat padahal waktu mereka bertemu di restaurant terlihat nampak sangat canggung.
Lalu mina mengembalikan buku punya Gijae yang ia pinjam dan pergi ke kamar mandi. Sambil bercermin, Mina bergumam dan bingung kenapa mereka berdua bisa terjebak di kamar mandi pada hari natal. Mina melihat sikat gigi Gijae dan kyutae yang berhadapan kepala lalu ia membayangkan Gijae dan Kyutae sikat gigi bersama. ia lantas langsung berhenti membayangkan itu dan keluar dari kamar mandi.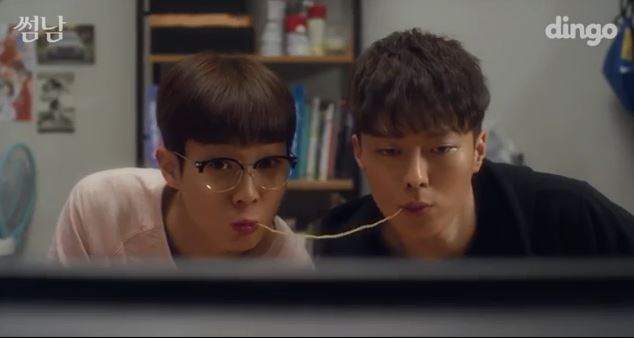 Mina bergabung dengan Gijae dan Kyutae yang saat itu sedang makan Ramen sambil menonton televisi di ruang tamu. Adegan di Televisi menampilkan pasangan kekasih yang sedang makan Ramen di satu panci yang sama. Saat Mina sedang menonton, ia terkejut karena Gijae dan Kyutae melakukan adegan yang sama dengan yang ada di televisi.
baca: Pemain, Review Sinopsis Drama Hi Bye Mama Episode 1-Tamat [Kim Tae Hee & Lee Kyu Hyung]
Kyutae dan Gijae yang menyadari wajah mereka yang sangat berdekatan, terkejut hingga terjungkal yang membuat Ramen itu tumpah mengenai Paha Gijae. Kyutae langsung membersihkan tumpahan Mie yang ada dipaha Gijae. saat sedang melihat mereka berdua akrab, Mina penasaran bertanya apakah mereka tinggal di satu rumah. Kyutae dan Gijae mengiyakan dan tak sengaja, Kyutae membersihkannya hingga ke bagian Vital Gijae. Gijae langsung menarik paksa tisu itu dan membersihkannya sendiri.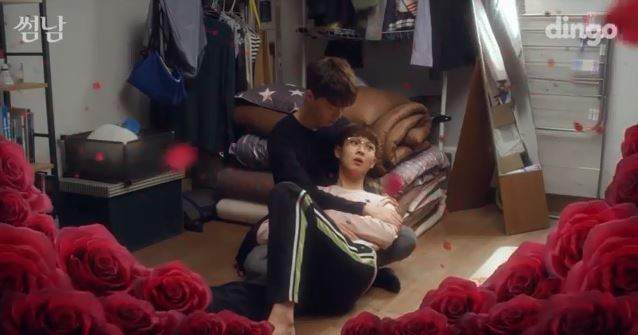 Mina semakin merasa aneh dengan kedekatan Gijae dan Kyutae dan memilih untuk pulang saja. setelah Mina pergi, Kyutae berinisiatif untuk membersihkan meja dan panci dari tumpahan mie. Saat ia berdiri berjalan, tak sengaja ia ke pleset hingga terjatuh. Namun dengan sigap, Gijae mengangkat kedua tangan nya untuk menyelamatkan Kyutae.
baca: Profil Pemain, Sinopsis The World of the Married Episode 1-Tamat
Tiba-tiba Mina kembali masuk ke rumah Gijae untuk mengambil Handphonenya dan ia kaget melihat Kyutae yang sedang dipangkuan Gijae. Lantas, ia langsung cepat-cepat ambil Handphone-nya dan langsung pergi.
source gambar : Dingo