Krystal fx, Park Shin Hye. Dalam drama The Heirs, selain aktris Park Shin Hye, aktris lain yang cukup dikenang oleh penggemar drama korea adalah Krystal fx. Dalam drama tersebut mereka memang berperan masing-masing sebagai Cha Eungsang dan Lee Bona yang awalnya tak begitu akur, namun diakhir cerita mereka malah menjadi sangat dekat.
Di luar lokasi syuting, Park Shin Hye dan Krystal malah lebih dekat dibandingkan dengan akting mereka di The Heirs. Bahkan hampir empat tahun setelah drama tersebut ditayangkan, mereka berdua tamak masih akrap dan berhubungan baik. Kedekatan ini pun ditunjukkan melalui postingan Krystal fx pada akun instagramnnya pada hari Kamis (20/7) kemarin.
Dalam foto tersebut, Krystal terlihat berpose cantik dengan cangkir plastik yang berisi minuman es kopi ditangannya. Sedangkan dibelakangnya ada truk kopi yang siap melayani siapa saja yang mau minum es kopi gratis. Truk kopi itu adalah kiriman hadiah dari Park Shin Hye sebagai bentuk dukungan semangat pada Krystal fx yang saat itu sedang syuting drama Bride of the Water God.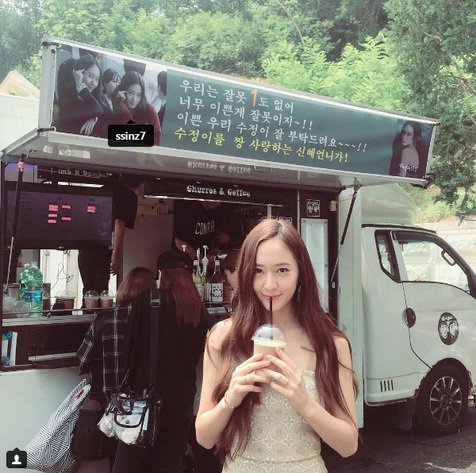 Bahkan dibagian atas truk kopi, terlihat sebuah banner yang berisi foto Krystal dan Park Shin Hye dengan pose yang sama dan juga tulisan yang berbunyi "Kita ngak buat salah, cuma terlalu cantik aja. Tolong perhatikan Soojung (nama Korea Krystal) kami yang cantik. Cinta dari Shin Hye". Wah soo sweet banget kan…
Baca juga: Kim Ji Won Datang ke Bali Indonesia