Drama Korea Lovers of the Red Sky menjadi salah satu serial drama korea terbaru 2021 yang tayang perdana pada tanggal 30 Agustus 2021 untuk menggantikan serial sebelumnya yang berjudul "Racket Boys". Drakor ini ditayangkan oleh channel TV SBS setiap hari Senin dan Selasa, jam 22:00 waktu Korea sebanyak 16 episode dan dijadwalkan habis tayang pada 28 September 2021.
| | |
| --- | --- |
| Judul Drama | 홍천기 / Lovers of the Red Sky / Red Sky |
| Genre / Tema | Fantasi, Kerajaan, Romantis |
| Jumlah Episode | 16 episode |
| Channel | SBS |
| Rilis | 30 Agustus 2021 sampai 28 September2021 |
| Tayang Setiap Hari | Senin dan Selasa, jam 22:00 waktu Korea |
| Sutradara | Jang Tae Yoo |
| Penulis | Ha Eun |
| Cerita Adaptasi | Novel 2 volume "Hong Chun Ki" karya Jung Eun Gwol yang diterbitkan pada Desember 2016 |
Sinopsis Drama Lovers of the Red Sky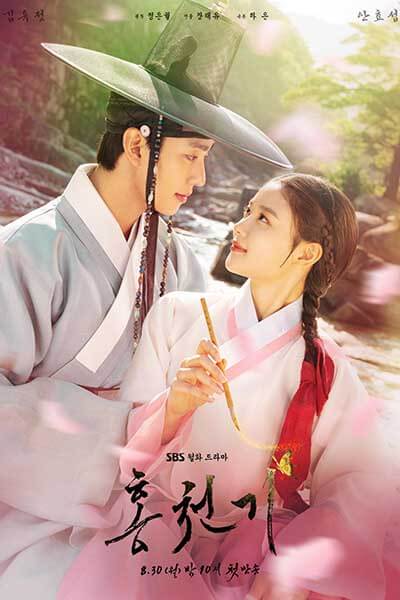 Cerita dalam drama korea Lovers of the Red Sky merupakan hasil adaptasi dari sebuah novel dengan judul yang sama dan ditulis oleh Jung Eun Gwol.
Pada intinya, drama Lovers of the Red Sky adalah drama fantasi romantis yang menceritakan tentang seorang wanita yang mejadi satu-satunya pelukis yang tercatat dalam sejarah di era Joseon.
Pada jaman Joseon, Hong Chun Ki (Kim Yoo Jung) adalah pelukis wanita yang terkenal jenius dan berbakat. Dia terpilih sebagai pelukis wanita pertama dari Dohwaseo (Akademi Seni Lukis Kerajaan Korea).
Selain jenius, Hong Chun-Ki juga memiliki penampilan cantik dan ceria. Baginya, melukis adalah segalanya. Suatu hari, dia bertemu Ha Ram.
Ha Ram (Ahn Hyo-Seop) adalah seorang perwira di Seowoongwan, sebuah kantor yang bertanggung jawab atas astronomi, geografi, seni ramalan, meteorologi. Saat dirinya masih muda, sebuah kecelakaan menyebabkan Ha Ram menjadi buta. Terlepas dari penampilan luarnya, sosok Ha Ram yang tenang dan bijaksana, dia memiliki sisi gelap dan kepribadian ganda yang harus diperhatikan.
Hong Chun Ki pun jatuh cinta padanya dan dia tidak peduli bahwa Ha Ram adalah sosok pria buta. Hong Chun Ki terus muncul di depan Ha Ram dan dia mendapati dirinya menunggunya.
Pemain Drama Lovers of the Red Sky
Tentu kurang afdol rasanya kalau nonton drama Lovers of the Red Sky, tapi tidak tahu siapa saja nama asli dari para pemainnya. Nah berikut mimin wekepo sudah memberikan list nama asli dan karakter yang diperankannya.
1# Kim Yoo Jung sebagai Hong Chun Ki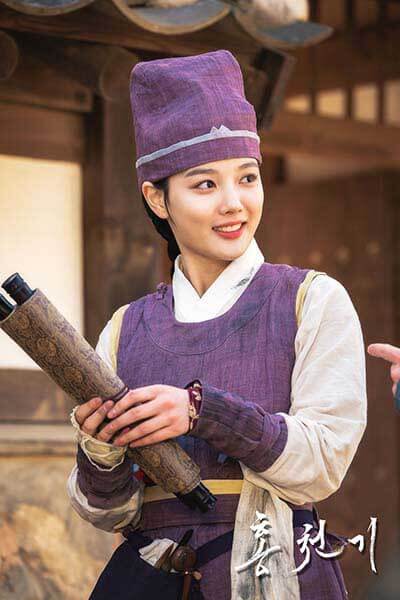 Dalam drama Lovers of the Red Sky ini, aktris Kim Yoo Jung akan menjadi pemeran utama dengan karakternya sebagai Hong Chun Gi.
Hong Chun Gi adalah satu-satunya pelukis wanita yang masuk ke Dohwawon di era Dinasti Joseon. Dia terlahir buta, tapi secara ajaib mendapatkan penglihatannya kembali. Ia memiliki karakter dan bersemangat.
2# Ahn Hyo Sup sebagai Ha Ram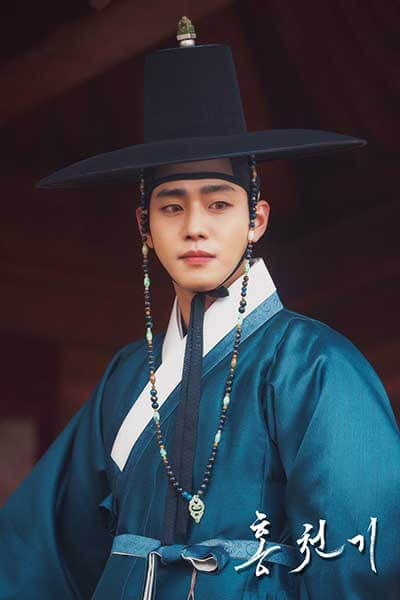 Aktor Ahn Hyo Seop juga ikut menjadi pemain utama dan memerankan karakter sebagai Ha Ram.
Diusia mudanya, Ha Ram kehilangan penglihatannya, namun dia diharapkan untuk menyelesaikan "karakter kehidupan" baru, sebagai astrolog yang membaca langit dan konstelasi.
3# Gong Myung sebagai Pangeran Ahn Pyung (Lee Young)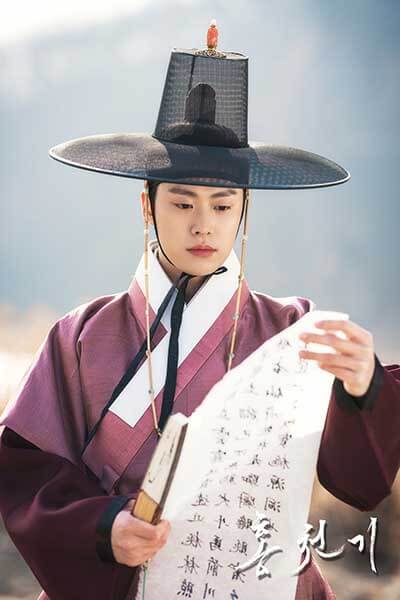 Karakter Pangeran Anpyeong yang diperankan oleh Gong Myung ini sepertinya memiliki jiwa bebas yang menyukai puisi, surat, dan penuh dengan sifat romantis tetapi hanya di luar saja, kenyataannya ia memiliki rasa kesepian di hati yang sangat dalam.
Layaknya kincir angin yang mengembara untuk mencari keindahan, memiliki tutur kata yang lancar dan kepribadian yang hidup.
4# Kwak Si Yang sebagai Pangeran Suyang (Yi Yul)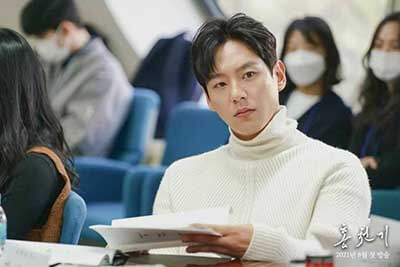 Kwak Si Yang juga tampil dengan memerankan karakter Pangeran Suyang.
Diceritakan pangeran Suyang sangat yakin jika dirinya akan menjadi raja Joseon, yang akan menyulam jalan menjadi Raja Sejo di masa depan dengan kekejaman.
Pemeran Pendukung
Jang Hyun Sung sebagai Ahn Gyeon
Kim Kwang Kyu sebagai Choi Won Ho
Moon Sook
Hong Kyung sebagai Choi Kyung
Hong Jin Gi sebagai Cha Young Wook
Choi Kwang Il sebagai Hong Eun Oh
Yoon Sa Bong sebagai Gyeonjudaek
Kim Hyun Mok sebagai Man Soo
Go Kyu Pil sebagai pelayan Pangeran Besar Ahn Pyung
Sinopsis Drama Red Sky
baca: Daftar Drama Korea Kerajaan Kolosal Terbaik Romantis Paling Rekomended
Sinopsis Lovers of the Red Sky Episode 1 | Sinopsis
Sinopsis Lovers of the Red Sky Episode 2 | Sinopsis
Sinopsis Lovers of the Red Sky Episode 3 | Sinopsis
Sinopsis Lovers of the Red Sky Episode 4 | Sinopsis
Sinopsis Lovers of the Red Sky Episode 5 | Sinopsis
Sinopsis Lovers of the Red Sky Episode 6 | Sinopsis
Sinopsis Lovers of the Red Sky Episode 7 | Sinopsis
Sinopsis Lovers of the Red Sky Episode 8 | Sinopsis
Sinopsis Lovers of the Red Sky Episode 9 | Sinopsis
Sinopsis Lovers of the Red Sky Episode 10 | Sinopsis
Sinopsis Lovers of the Red Sky Episode 11 | Sinopsis
Sinopsis Lovers of the Red Sky Episode 12 | Sinopsis
Sinopsis Lovers of the Red Sky Episode 13 | Sinopsis
Sinopsis Lovers of the Red Sky Episode 14 | Sinopsis
Sinopsis Lovers of the Red Sky Episode 15 | Sinopsis
Sinopsis Lovers of the Red Sky Episode 16 | Sinopsis