Pemain pemeran sinopsis Wok of Love Episode 1-Tamat. Sobat drama pengen nonton drakor dengan nuansa atau latar belakang masak-masakan? Maka drama korea terbaru ini sangat cocok buat kalian semuanya. Wok of Love atau juga dikenal dengan judul "Greasy Melo / Greasy Romance" adalah serial drama korea terbaru bertema komedi romantis dan dicampur dengan sentuhan melodrama. Ditayangkan oleh SBS channel, kehadiran kdrama ini adalah untuk menggantikan slot drakor sebelumnya yang ditempati oleh "Exit".
Alur cerita drama korea Wok of Love / Greasy Melo / Greasy Romance akan menceritakan tentang seorang koki yang dulunya sangat terkenal, namun sekarang sudah tak populer lagi. Akhirnya ia memutuskan untuk menyewa tempat dan membuka sebuah restoran cina kecil. Tapi kisahnya semakin menarik, karena pemilik tempat tersebut ternyata merupakan seorang mantan preman dari anggota geng yang sebelumnya pernah dipenjaa selama 5 tahun.
Yang paling menarik dari serial drakor ini adalah pemain utamanya yang bakal menampilkan salah satu anggota kpop 2PM yang bernama Lee Joon Ho. Meski sebenarnya tak banyak drama yang Junho bintangi, namun namanya tentu sudah sangat familiar dan populer dikalangan pecinta drama korea. Sebelum membintangi serial drama ini, Junho sendiri pernah menjadi pemain utama dalam serial "Just Between Lovers" yang ditayangkan tahun 2017 kemarin.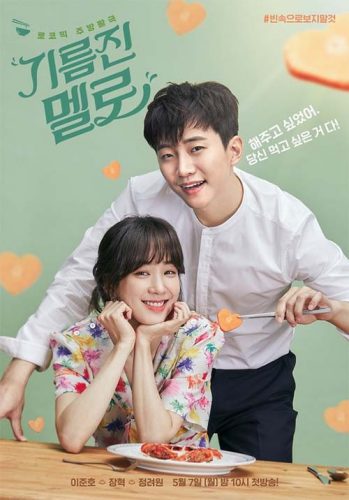 Sebagai lawan mainnya, Junho akan ditemani oleh actor senior bernama Jang Hyun dan juga aktris Jung Ryeo Won. Bagaimana aksi komedi romantis mereka dalam drama ini? Yuk simak sinopsis Wok of Love selengkapnya dibawah ini.
Judul Hangul: 기름진 멜로
Sutradara: Park Sun-Ho
Genre: Melodrama, Romantis, Komedi
Penulis alur cerita: Seo Sook-Hyang
Channel TV : SBS
Jml Episode: 40 (35 menit / episode)
Jadwal tayang : 7 Mei – 10 Juli 2018
Tayang setiap hari: Senin & Selasa 22:00
Pengganti serial drama "Exit"
Follow Instagram : @wekepo
Sinopsis Wok of Love
Drama Korea Wok of Love ini akan menceritakan tentang kisah cinta dan cara bertahan hidup dari seorang koki terkenal yang tiba-tiba jatuh dan mengakibatkan ia tak populer lagi. Ia kemudian bekerja disebuah restoran Cina terbaik di Korea, di dapur kecilnya ia mengharapkan sebuah keberuntungan datang kembali kepadanya.
baca juga: 21 Drama Korea Romantis 2018 Terbaru Bakal Bikin Baper!
Chef Seo Poong (pemeran Lee Joon Ho) dulu pernah menjadi koki populer dan bekerja di restoran Cina terbaik. Namun popularitasnya tiba-tiba memudar dan akhirnya dia bekerja di sebuah restoran Cina kecil yang gagal. Sementara itu, Doo Chil Sung (pemain Jang Hyuk) adalah pemilik bangunan yang disewa Seo Poong. Dia adalah mantan anggota geng yang pernah dipenjara selama 5 tahun.
Pemain Pemeran Drama Wok of Love
baca yuk: Profil, Foto, Fakta & Biodata EXO Lengkap dengan Agama
Jang Hyuk pemeran karakter Doo Chil Sung
Jung Ryeo Won pemeran karakter Dan Sae Woo
Lee Joon Ho pemeran karakter Seo Poong
Park Ji Young pemeran karakter Chae Sul Ja
Lee Mi Sook pemeran karakter Jin Jung Hye / wanita misterius
Cha Joo Young pemeran karakter Suk Dal Hee
Lee Ki Hyuk pemeran karakter Na Oh Jik
Tae Hang Ho pemeran karakter Im Hae Jeong
Lee Ki Young pemeran karakter Dan Seung Ki
Ok Ja Yun pemeran karakter Lee Ji Kyung
Jang Hee Ryung pemeran karakter Lee Boon Hong
Jo Jae Yoon pemeran karakter Oh Maeng Dal
Kim Hyun Joon pemeran karakter Kwang Dong Shik
Choi Ki Sub pemeran karakter Jun Yi Man
Cha In Ha pemeran karakter Bong Chim Soo
Choi Won Myung pemeran karakter Yang Kang Ho
Kim Sa Kwon pemeran karakter Yong Sung Ryong (presiden hotel)
Im Won Hee pemeran karakter Wang Chun So (koki utama restoran hotel)
Oh Ui Shik pemeran karakter Maeng Sam Sun (koki restoran hotel di pelatihan)
Hong Yoon Hwa pemeran karakter Kan Bo Ra (koki restoran hotel)
Kang Rae Yun pemeran karakter Gong Rae Yun (manajer hall hotel)
Sinopsis Wok of Love Episode Lengkap
drama terbaru: Sinopsis Lovely Horribly [Park Si Ho & Song Ji Hyo]
==TAMAT==