2019 SF9 Live Fantasy #2 Unixerse In Jakarta
23 Agustus 2019 start from 6.30 PM
at Istora Senayan Jakarta
Periode promo 23/08/2019 sampai 23/09/2019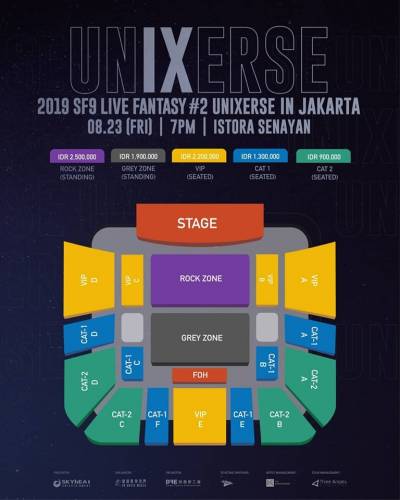 Ticket Prices :
ROCK ZONE (standing)  – IDR 2,500,000
VIP(numbered seat) – IDR 2,200,000
GREY ZONE (standing)   – IDR 1,900,000
CAT 1   (numbered seat) – IDR 1,300,000
CAT 2   (numbered seat) – IDR    900,000
Tickets sale starts from July 23th, 2019 online via www.airasiaredtix.com
*All ROCK ZONE ticket holders will be entitled to Hi-touch and draw their chance to win group photo,     signed poster and signed polaroid
* All VIP will draw their chance to win signed poster and signed polaroid
Fantasy, are you ready? SF9 will bring their first concert tour to Jakarta.
SF9 has returned with their 7th mini album "RPM" and they are also set to embark on an Asia tour with 2019 SF9 LIVE FANTASY #2 UNIXERSE.
SF9 which is an acronym for Sensational Feeling 9 is a South Korean boy group formed by FNC Entertainment. SF9 is the company's first dance boy group to debut. SF9 debuted on October 5, 2016 with the release of their first single album, Feeling Sensation.
Since their debut in 2016, SF9 has released multiple mini albums and EPs including Burning Sensation, Japanese debut Breaking Sensation and Knights of the Sun, Mamma Mia and Sensuous.
On February 20, 2019,SF9 made a comeback with "Enough", the title track of their sixth mini album, Narcissus. After a month, on March 20, 2019 they released their 2nd Japanese album with the title "ILLUMINATE" that consist of 10 tracks. To promote their album a Japanese tour titled "SF9 2019 ZEPP TOUR "ILLUMINATE" was held in Tokyo, Nagoya and in Namba on April 02, April 04 and April 05 respectively.
SF9 consists of 9 boys performers namely YOUNGBIN, INSEONG,JAEYOON, DAWON, ROWOON, ZUHO, TAEYANG, HWIYOUNG AND
In conjunction with the 1st Asian Tour, HR Music will present the Jakarta and Kuala Lumpur show. They will come to Jakarta for their concert 2019 SF9 LIVE FANTASY #2 UNIXERSE IN JAKARTA. Come and join SF9 on this spectacular night where you can anticipate exciting and unforgettable performance as this is their first concert tour ever as a group in indonesia.