Super KPOP Festival Indonesia 2019. Super KPOP Festival Indonesia 2019 merupakan festival K-Pop terbesar di Indonesia tahun ini ! Akan tampil 10 artis K-Pop favorit selama 2 hari (Sabtu, 28 September & Minggu, 29 September 2019) di ICE BSD.
Akan ada lima musisi yang akan tampil di SKF2019 dengan durasi festival mulai dari pukul 19.00 hingga 22.00 WIB. Penjualan tiket SKF2019 yang dimulai 6 Agustus 2019 ini bisa dibeli melalui Tokopedia.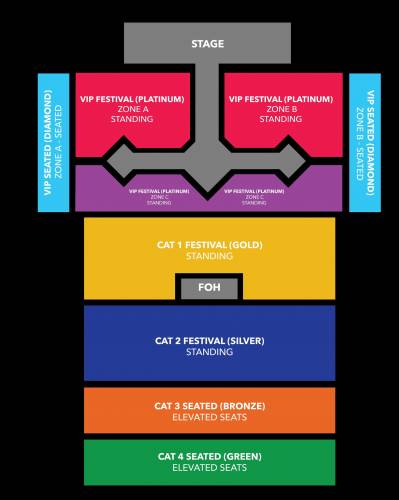 Berikut ini adalah harga tiket Super K-Pop Festival 2019 :
CAT 4 Seated (Green) Rp1,027,273
CAT 3 Seated (Bronze) Rp1,540,909
CAT 2 Seated (Silver) Rp2,045,545
CAT 1 Festival (Gold) Rp2,670,909
VIP Seated (Diamond) Zona B Rp3,390,000
VIP Seated (Diamond) Zona A Rp3,390,000
VIP Festival (Platinum) Zona C Rp3,390,000
VIP Festival (Platinum) Zona B Rp3,390,000
VIP Festival (Platinum) Zona A Rp3,390,000.
Bintang K-POP Yang Akan Tampil :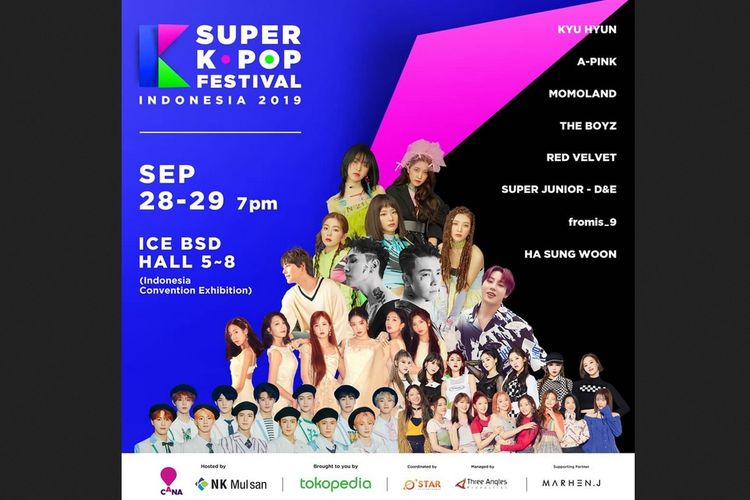 1# Kyu-Hyun
Kyu Hyun is a member of South Korea's most famous boyband, Super Junior, formed by SM Entertainment in 2006. He is the first Super Junior member who debuted as a solo artist, back in 2014 through his solo mini album, 'At Gwanghamun'. Kyu-Hyun did a lot of korean drama original soundtracks as well. This year on May 19th, he came back with his single album 'The Day We Meet Again' after he finished his 2 years military service earlier that month. Besides being famous as a singer, he's also famous for his personality and have been offered many invitations from several entertainment shows, for instance, New Journey To The West. He is also known as a very good TV host and musical actor.
2# Apink
Apink is a 6 member South Korean girl group formed by Play M Entertainment in 2011. They have released several single and mini albums with a lot of mega-hit songs, such as ' 'FIVE'(파이브), 'LUV'(러브), 'Mr. Chu'(미스터 츄), 'NoNoNo'(노노노). Due to their popularity and huge fandom, they also successfully accepted big awards including Mnet Asian Music Awards and Golden Disc Awards. Recently, they achieved the top rank for three biggest music broadcast shows with their song, '%%'(응응). Early this year they held a solo concert which turns out very successful with total around 8,000 fans attended. The members are also busy with their individual activities in singing, acting and TV shows.
3# Momoland
Momoland is a 9 members South Korean girl group formed through a survival show 'Finding Momoland' under MLD Entertainment in 2016. 3 years after their debut, they have become one of the top girl groups with hit songs such as 'Boom Boom (뿜뿜)', BAAM(배엠)', and 'I'm So Hot (암쏘핫)'. Momoland's unique and refreshing image stands out and is loved by fans all over the globe. They climbed up to the top in the Oricon Daily Chart after successfully sold around 8,000 'I'm So Hot (암쏘핫)' Japanese version albums. In addition, they received the Oricon Daily Chart main price as a result of their Japanese debut album success. They also held concert tour which was sold out in Japan thanks to their fans enthusiasm.
4# The Boyz
The Boyz is a twelve members South Korean boy group formed by Cre.ker Entertainment in 2017. They debuted through their first single album, 'The First'. They gained a lot of attention and first place in music broadcast shows through their song, 'Bloom Bloom', which is from their latest single album with the same title released on April this year. They also received several Rookie Of The Year Award from prestigious K-Pop award shows, such as Gaon Chart Music Awards and Asia Artist Awards. This successful rookie group also held concert tour starting from early this year, 'The Castle' in 7 Asian countries. They started off in Korea then Japan, which was sold out and finished it in Taipei, then Manila on 30 June.
5# Red Velvet
Red Velvet is a 5 member girl group formed by SM Entertainment in 2014. At first the group has only 4 members, Irene, Wendy, Joy and Seulgi. Yeri was added as the fifth member a few months after the group's debut. This girl group have 2 sides of their music image, red, meaning strong and elegant, and velvet, meaning soft and feminine. They recently did a comeback with their new single 'Zimzalabim' from their new mini album 'The ReVe Festival Day 1'. Red Velvet also did a promotion tour after their fifth year anniversary in Asia and North America. They became one of South Korea's most famous girl group and have achieved number one for Girl Group Brand Power Ranking for months, last year.
6# Super Junior D&E
Super Junior-D&E is the fifth official sub-unit of the South Korean boy band Super Junior. Formed by SM Entertainment in 2011, the group is composed of two Super Junior members: Donghae and Eunhyuk. The duo debuted on December 16, 2011, with their digital single "Oppa, Oppa". Super Junior-D&E launched the mini-album 'DANGER' on April 14th on various online music sites, and has been receiving explosive responses from domestic and abroad by showing various genres ranging from intense dance tracks to trap hip-hop songs. On July 12, Super Junior as a whole group was the first of the Asian singers to perform solo in Saudi Arabia with 4,000 spectators.
7# Fromis_9
Fromis 9 is a South Korean girl group formed by CJ E&M through the 2017 reality show Idol School. The group is composed of nine members. The group debuted on January 24, 2018, under Stone Music Entertainment with the release of their first extended play (EP), To. Heart. The group has released a special single album titled From.9 on October 10 with the title song, "LOVE BOMB," which has reached over 10 million views on YouTube. Even though "LOVE BOMB" did not enter the Gaon Digital chart top 100, it peaked at number 81 on Download component chart. Their other song "FUN!" also did not enter the Gaon Digital chart top 200, but peaked at number 73 on Download component chart. On 2018 Fromis_9 won and accept the Rising Award at the Asia Artist Award. and New Star Award (singer) at the Asia Model Award.
8# Ha Sung Woon
Ha Sung-woon is a South Korean singer-songwriter. He was best known as a member of South Korean boy group Wanna One and currently as a member of boy group Hotshot. Ha Sung-Woon began his solo activity by announcing his first two-day fan-meeting, "My Moment", which was held from March 8–9 at the SK Olympic Handball Gymnasium in Olympic Park, Seoul. The tickets went on sale on February 20 and sold out within two minutes of the pre-order becoming available. Sungwoon's first solo release, My Moment, was released on February 28, 2019, featuring the upbeat lead single "Bird". Hanteo reported that 45,600 copies of the album were sold on the first day of release, making My Moment the third-highest first-day sales for an album. It also became the first number one on the Gaon retail album chart, which began on March 4. My Moment topped the 9th week (February 24 – March 2) of the main Gaon Album Chart, and ranked first on the daily charts on February 28, March 2, and March 3.
9# NU'EST
NU'EST is a South Korean boy band formed by Pledis Entertainment. The group debuted on March 15, 2012, with the digital single "Face". During their promotional period and the rest of the year, NU'EST began to expand to the global market, holding events in Japan, Australia, other parts of Asia, and the United States, including performances at KCON. On August 26, 2018, NU'EST W released an OST entitled "AND I" for the historical romance drama Mr. Sunshine. The "AND I" OST achieved #1 on Mnet, Naver Music & Soribada charts. On November 8, Gaon Chart announced that EP Who, You received the official platinum certification. Receiving a platinum certification means that the album reached 250,000 sales.
10# LEE HI
Lee Ha-yi, known by her stage name Lee Hi, is a South Korean singer-songwriter under YG Entertainment. She is best known as the runner-up of SBS' K-pop Star Season 1. She debuted with single "1, 2, 3, 4" on October 28, 2012 and reached number one with first week sales of 667,549 downloads. On March 9, 2016, Lee released the first half of her album Seoulite with lead singles Breathe and Hold My Hand, where Breath leads to her winning the Digital Bonsang award at the 31st Golden Disk Awards. On October 19, Lee collaborated with the film Bohemian Rhapsody and released a cover soundtrack of Queen Bohemian Rhapsody Recently, Lee Hi made a comeback with her EP, 24°C, on May 30, 2019. The lead single, No One (featuring B.I), topped all charts in South Korea, including Melon, Genie and Mnet.
Info Lengkap Check disini: