Wekepo.com – Seiring pernikahan Song Joong Ki dan Song Hye Kyo yang semakin dekat, setiap gerakaan keduanya dan informasi mengenai hari special mereka pun tampaknya semakin panas di Internet.
Pada tanggal 17 Oktober kemarin surat kabar lokal Korea Selatan Newspim mengungkapkan sebuah foto eksklusif yang mengungkapkan detail dalam kartu undangan Song Joong Ki dan Song Hye Kyo.
Berbekal dari informasi itu, pernikahan keduanya akan dilangsungkan dilantai pertama dalam ruang pertemuan Yeong Bin Gwan banquet hall, Shilla Hotel pukul 4 sore (KST) pada tanggal 31 Oktober 2017.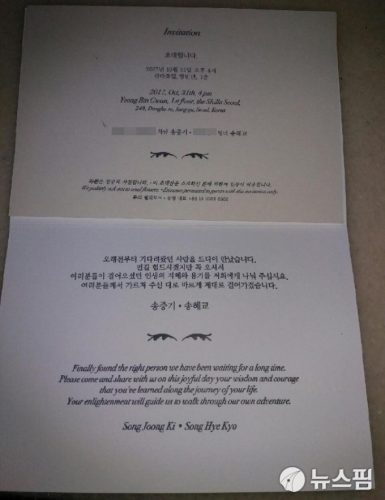 Pesan manis dan sentimental untuk tamu undangan pasangan ini juga turut disertakan dalam kartu undangan dalam bahasa Korean dan Inggris.
Bunyinya : "Finally found the right person we have been waiting for a long time. Please come and share with us on this joyful day your wisdom and courage that you've learned along the journey of your life. Your enlightenment will guide us to walk through our own adventure."
Atau jika di Indonesiakan akan berarti kurang lebih seperti ini : "Akhirnya menemukan orang yang tepat yang telah lama kita tunggu. Silakan datang dan berbagi dengan kami pada hari yang menyenangkan ini kebijaksanaan dan keberanian Anda yang telah Anda pelajari sepanjang perjalanan hidup Anda. Pencerahan Anda akan membimbing kita untuk melewati petualangan kita sendiri. "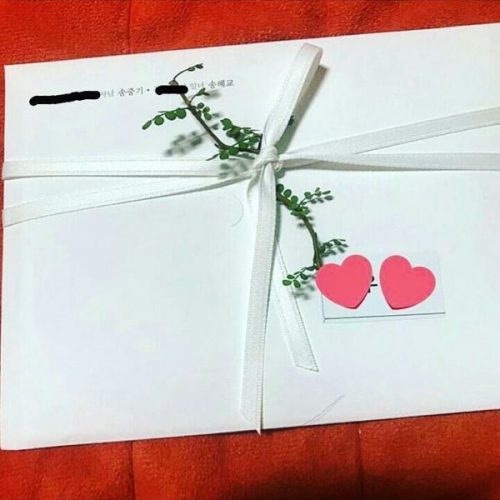 Selain itu, para tamu undangan diminta untuk tidak mengirimkan bunga ke pesta pernikahan mereka, dan pintu masuk hanya diperbolehkan untuk para tamu undangan. Makanya, dengan beredarnya informasi ini di media, kemungkinan keamanan pada hari istimewa Song Song Couple diyakini akan semakin ketat.
baca: 30+ Drama Korea Komedi Romantis 2020 Paling Rekomendasi Terpopuler Rating Tinggi
Dan dapat dipastikan, tanggal 31 Oktober 2017 akan menjadi salah satu hari patah hati di dunia. Cheers..
source: [1]