wekepo.com  – Sinopsis Drama Dream High Season 1 adalah drama yang dirilis pada Januari 2011 silam. Menampilkan pemeran utama Suzy Miss A, drama ini berhasil menyabet berbagai kategori penghargaan, hal ini juga yang membuat drama Dream High Season 1 memiliki predikat sebagai drama paling rekomendasi dan drama korea terbaik 2011.
Disutradarai oleh Lee Eung-Bok dan penulisnya Park Hye-Ryun, drama ini bercerita tentang sekelompok anak SMA dengan cita-cita yang tinggi. Berkat kemauan dan perjuangan kera s, mereka ingin membuktikan bahwa mereka bisa.
Judul Drama: Dream High
Romanisasi: Deurim Hai
Hangul: 드림하이
Sutradara: Lee sedikit menyerupai-Bok
Penulis: Park Hye-Ryun
TV Penyiar : KBS2
Jumlah Episode : 16
Tanggal rilis: 3 Januari – 28 Februari 2011
Hari Penayangan : Senin dan Selasa, 21:55
Pemain Drama Dream High Season 1
Suzy pemeran Go Hye-mi
Kim Soo-hyun pemeran Song Sam-dong
Taecyeon pemeran Jin-guk/Hyun Shi-hyuk
Eunjung pemeran Yoon Baek-hee
Wooyoung pemeran Jason
IU pemeran Kim Pil-sook
Ahn Gil-kang pemeran Ma Doo-shik
Ahn Sun-young pemeran Kang Oh-sun (Saudara Oh-hyuk)
Ahn Seo-hyun pemeran Go Hye-sung (Saudara Hye-mi)
Lee Hye-sook pemeran Song Nam-boon (Ibu Sam-dong)
Choi Il-hwa pemeran Hyun Moo-jin (Ayah Jin-guk)
Park Hyuk-kwon pemeran Go Byung-jik (Ayah Hye-mi)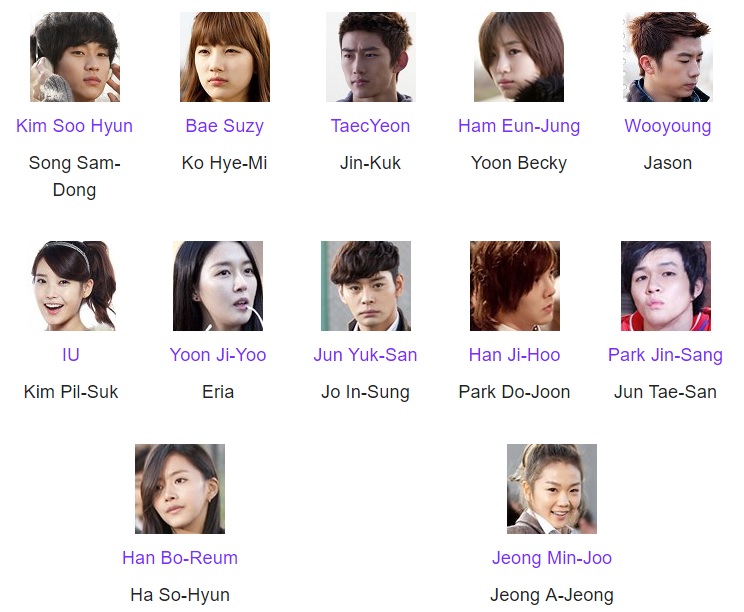 Sinopsis Singkat Drama Dream High Season 1
Drama Korea Dream High Season 1 mengambil latar cerita di Kirin High School of Art dan menceritakan kehidupan siswa yang bercita-cita untuk menjadi superstar. Sang Sam-Dong (Kim Soo-Hyun) adalah orang korea asli yang bermimpi untuk menjadi pemilik peternakan saham. Sang Sam-Dong lalu jatuh cinta kepada Ko Hye-Mi (Bae-Suzy) pada pandangan pertama dan kemudian mengikutinya hingga masuk ke Kirin High School of Art. Disekolahan ini Sang Sam-Dong menemukan bakat barunya yakni dibidang musical.
Jin-Gook (TaeYeon) merupakan penari berbakat, namun ia memiliki beberapa masalah disekolah. Kemudian Sutradara Kirin High School of Art (Bae Yong-Jun) merekomendasikan Jin-Gook agar ia masuk di sekolahnya. Disekolahan barunya ini, Jin-Gook berkembang dengan pesat, ia sekarang bermimpi untuk menjadi seorang bintang dunia.
Jason (Wooyoung) adalah seorang siswa pertukaran Kirin, ia memiliki nilai tinggi sehingga sangat mudah untuk masuk ke sekolahan ini. Ia datang dari sekolah luar negeri, di Kirin ia mampu menunjukkan kemampuan luar biasa sebagai seorang penari.
Ko Hye-Mi (Bae-Suzy) adalah gadis paling populer di Sekolah Kirin. Ia adalah gadis yang sangat percaya diri, namun dibalik sikapnya itu ia menyembunyikan masa lalu yang sangat menyedihkan. Mimpinya sekarang adalah menjadi vokalis klasik terkenal di dunia. Tetapi setelah keluarganya hancur, ia tak miliki pilihan lain selain masuk ke sekolahan Kirin. Dalam drama ini, Ko Hye-Mi dicintai oleh Song Sam-Dong dan Jin-Gook.
Eria (Yoon Young-Ah) adalah bintang remaja yang sangar populer. Setelah ia masuk ke Kirin, ia menjadi objek kekaguman teman-temannya. Namun dibalik itu, Eria berharap bisa menjadi kehidupan disekolah biasa.
Sinopsis Drama Dream High Season 1 Episode 1 – 16
Rating Drama Dream High Season 1 per Episode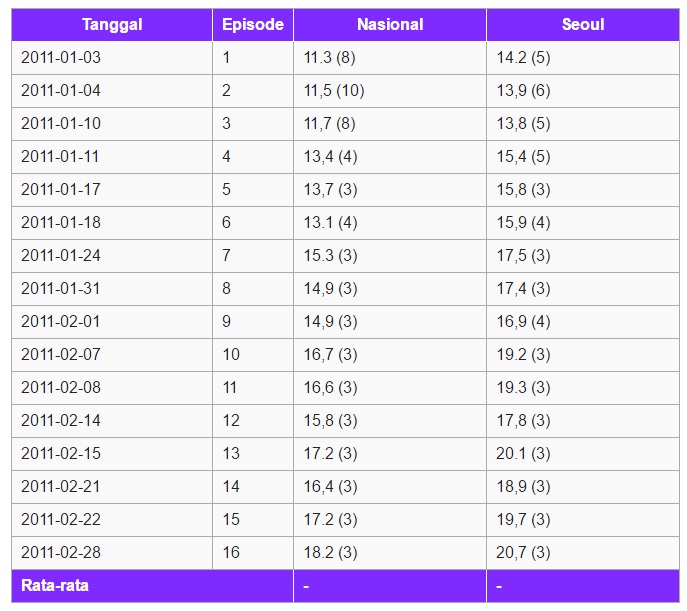 Sekian artikel pemain & sinopsis drama dream high season 1 episode 1 – 16 tamat, semoga bisa menghibur para pembaca setia wekepo semuanya. Baca juga artikel kami dibawah ini: