Sinopsis My Fellow Citizens Drama Korea dan Pemainnya. Serial kdrama terbaru dengan tema crime dan komedi kembali hadir untuk menemani waktu istirahat sobat wekepo semuanya. My Fellow Citizens adalah serial kdrama terbaru 2019 yang dijadwalkan tayang mulai 1 April 2019 untuk menggantikan serial "My Lawyer, Mr. Joe 2: Crime and Punishment" pada slot waktu yang sama yakni hari Senin dan Selasa pukul 22:00 waktu korea selatan.
Drakor ini akan bercerita tentang seorang penipu professional yang tanpa sadar menikasi seorang polisi, namun pada akhirnya penipu ini malah terjebal dalam sebuah kasus. Dia akhirnya mencalonkan diri dalam sebuah majelis nasional demi keselamatan jiwa dan orang yang disayanginya.
Sama seperti judulnya, drakor ini akan dibintangi aktor Choi Si Won. Pria yang akrab dipanggil Siwon ini adalah salah satu anggota boyband terkenal yakni Suju atau Super Junior. Ia terakhir kali terlihat membintangi serial drama pada tahun 2017 lalu melalui sebuah drama berjudul "Revolutionary Love".
Judul Drama : 국민 여러분 / My Fellow Citizens
Judul Lainnya : Dear Citizens / People of the Country
Tema atau Genre: Crime, Comedy
Jumlah Episode : 40 eps
Channel Penayang : KBS2
Jadwal tayang : 1 April 2019 sampai 4 Juni 2019
Tayang setiap hari Senin dan Selasa, jam 22:00 waktu KST (2 episode per hari)
baca juga: Sinopsis Beautiful World [ Kdrama 2019 ]
Sinopsis My Fellow Citizens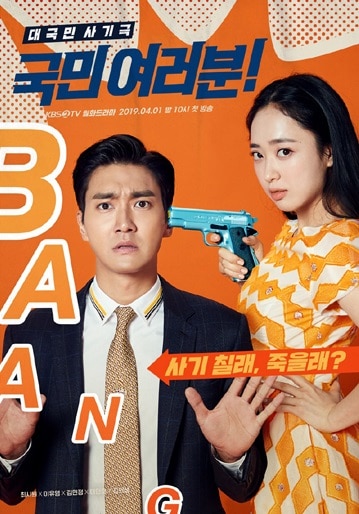 Dilansir dari beberapa sumber terpercaya, serial drakor My Fellow Citizens akan bercerita tentang kehidupan Yang Jung Kook (diperankan oleh Siwon), seorang penipu veteran, akan tetapi selama ini ia belum pernah tertangkap polisi sehingga ia tak memiliki catatan kriminal dalam hidupnya.
Namun disuatu hari, pacarnya tiba-tiba menghilang melarikan diri bersama uang hasil penipuan yang rencananya akan digunakan untuk pesta pernikahan mereka. Tentu saja Jung Kook sangat kesal dan dia keluar untuk minum-minum. Akhirnya ia bertemu dengan Kim Mi Young.
Kim Mi Young saat itu juga memiliki masa sulit dimana pacarnya ketahuan selingkuh. Disaat pertemuan mereka ini, Yang Kook mulai menipu kemlagi dan mengatakan pada Mi Young bahwa dirinya sedang menjalankan bisnis. Kim Mi Young juga menimpalinya dan mengatakan bahwa ia bekerja di sebuah perusahaan kecil.
Akhirnya keduanya merasa nyaman dan kemudian menjalin hubungan serius. Pada hari pernikahan mereka, Kim Mi Young mengatakan kepada Yang Kook bahwa ia sebenarnya adalah seorang polisi. Hal ini membuat Yang Kook frustasi dan masih berusaha untuk menyembunyikan identitas aslinya sebagai penipu. Disisi lain, istrinya sendiri kini sedang menyelidiki kasus penipuan yang ia lakukan.
Sementara itu, Park Hoon Ja adalah wanita misterius. Ia memiliki bisnis pinjaman pribadi yang ia dapat dari warisan ayahnya. Ayahnya ditipu oleh Yang Kook, dan Park Hoo Ja mengetahuinya. Park Hoo Ja kini sedang melakukan misi balas dendam untuknya. Akan tetapi rencananya berubah karena Yang Kook malah dinobatkan sebagai "warga pemberani". Alih-alih melakukan balas dendam, kini Park Hoo Ja memeras Yang Kook dan menggunakannya agar Hoo Ja bisa naik untuk kursi majelis nasional.
Pemeran atau Pemain My Fellow Citizens
simak yuk: Profil, Foto, Fakta & Biodata EXO Lengkap dengan Agama 2018
Pemain Utama
Choi Shi Won memerankan Yang Jung Kook
Lee Yoo Young memerankan Kim Mi Young
Tae In Ho memerankan Han Sang Jin
Kim Min Jung memerankan Park Hoo Ja
Pemain Pendukung
Yang Dong Geun memerankan Charles
Park Kyung Hye memerankan Yang Mi Jin
Lee Joo Myung memerankan Hwang Seung Yi
Kim Eui Sung memerankan Kim Joo Myung
Gil Hae Yeon memerankan Kim Kyung Ae
Kim Jong Goo memerankan Park Sang Pil
Heo Jae Ho memerankan Choi Pil Joo
Jun Suk Ho memerankan Kang Hyun Tae
Im Ji Hyun memerankan Yoo Hee Jin
Ji Yi Soo memerankan Detective Na
Trailer atau Teaser
Sinopsis My Fellow Citizens Episode 1-Tamat Lengkap
simak juga: 1001 Judul Drama Korea Terbaru 2019 All Tema, Genre Tayang Januari – Desember
Cerita My Fellow Citizens Episode 9 | Sinopsis
Cerita My Fellow Citizens Episode 10 | Sinopsis
Cerita My Fellow Citizens Episode 11 | Sinopsis
Cerita My Fellow Citizens Episode 12 | Sinopsis
Cerita My Fellow Citizens Episode 13 |
Cerita My Fellow Citizens Episode 14 |
Cerita My Fellow Citizens Episode 15 |
Cerita My Fellow Citizens Episode 16 |
Cerita My Fellow Citizens Episode 17 |
Cerita My Fellow Citizens Episode 18 |
Cerita My Fellow Citizens Episode 19 |
Cerita My Fellow Citizens Episode 20 |