Sinopsis Familiar Wife Episode 1-Tamat, drama korea yang dibintangi Ji Sung dan Ji Min dijadwalkan tayang perdana pada 1 Agustus 2018 untuk menggantikan serial "Why Secretary Kim" di channel tvN. Serial drakor bertema time travel ini akan bercerita tentang kisah keluarga yang saat ini rumah tangganya tidak menyenangkan. Namun tiba-tiba jalan kehidupannya dapat dirubah dengan cara kembali ke masa lalu di masa ia masih berada di Universitas.
Seperti yang sudah mimin jelaskan diatas tadi, drama korea Familiar Wife ini bakal dibintangi pemeran utama yang sangat familiar di layar kaca. Ia adalah aktor Ji Sung yang merupakan aktor aktis dan sudah memulai debutnya di tahun 90-an. Serial drama yang ia bintangi pun juga cukup populer, sobat pastinya tahu dengan drama "Kill Me, Heal Me, Entertaine, Secret Love" dan yang terbaru adalah drama "Defendant" yang selesai penayangannya di tahun 2017 kemarin.
Tak kalah populer juga aktris cantik Han Ji Min turut membintangi serial Familiar Wife dan memerankan karakter Seo Woo Jin. Drama yang dibintangi Han Ji Min pun tak kalah populer, sebut saja drama "Hyde, Jekyll and I, Rooftop Prince, Capital Scandal" yang sangat populer di tahunnya.
Serial drakor Familiar Wife ini akan disiarkan sebanyak 16 episode di channel tvN setiap hari Rabu dan Kamis, pukul 21:30 waktu KST. Nah, kalo sobat sedang mencari drama bertema time travel atau masa depan dan masa sekarang, maka drakor yang satu ini sangat cocok buat kamu.
klik dan baca : 12 Drama Korea Masa Depan Kembali Ke Masa Lalu Time Travel
Judul Drama : 아는 와이프 / Familiar Wife
Judul Lainnya : Knowing Wife / Wife that I Know / The Wife I Know
Genre / Tema : Romanc, Fantasy, Time Travel
Jumlah Episode : 16 eps
Channel Penayang : tvN
Jadwal tayang : 01 Agustus 2018 sampai 20 Sept 2018
Tayang setiap hari Rabu dan Kamis, jam 21:30 waktu KST
Follow IG kami : @wekepo
Sinopsis Singkat Familiar Wife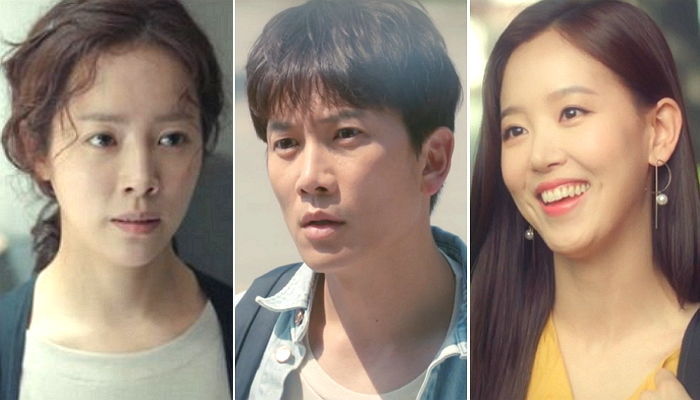 Serial kdrama Familiar Wife ini menampilkan pemeran uatam Ji Sung dan Han Ji Min. Alur ceritanya berfokus pada kisah Cha Joo Hyuk (diperankan oleh Ji Sung), seorang pria yang sudah menikah dengan wanita bernama Seo Woo Jin (diperankan oleh Han Ji Min) selama 5 tahun. Dari pernikahan mereka ini, mereka memiliki dua anak, akan tetapi semenjak pernikahannya dengan Woo Jin, Joo Hyuk tak pernah merasa bahagia karena tertekan karena sikap istrinya yang sudah berubah semenjak mereka memutuskan untuk menikah.
Woo Jin menjadi sangat pemarah dan tak pernah lagi memperhatikan Joo Hyuk. Joo Hyuk sendiri sering menggunakan kata-kata kasar saat mereka berbicara. Joo Hyuk juga merasa sangat stress dengan kehidupan rumah tangganya yang seperti ini, ia juga tak dapat fokus dengan pekerjaannya. Joo Hyuk bahkan menyesal sudah menikahi Woo Jin.
Suatu hari secara tak sengaja, Joo Hyuk bertemu dengan Lee Hye Won (diperankan oleh Kang Ha Na) yang merupakan cinta pertama Joo Hyuk. Karena pertemuan mereka dan masalah yang dirasakan Joo Hyuk sekarang, ia mulai tergoda dan terus memikirkan Hye Won serta terus mengingat masa lalunya saat masih pacaran.
simak juga yah: 10 Drama Korea Komedi Romantis 2018 Terbaru
Suatu hari dalam perjalanannya di dalam kereta, Joo Hyuk bertemu dengan pria tua setengah baya lalu memberikannya dua buah koin padanya. Semenjak kejadian itu, Joo Hyuk mendapatkan keajaiban dapat kembali ke masa lalunya dan merubah kehidupannya bersama Woo Jin istrinya.
Trus gimana yah kelanjutan drama tentang masa depan masa sekarang atau time travel ini? Yuk langsung simak aja sinopsis Familiar Wife selengkapnya dibawah yak.
Pemeran Pemain Drama Familiar Wife
Ji Sung memerankan tokoh Cha Joo Hyuk
Han Ji Min memerankan tokoh Seo Woo Jin
Kang Han Na memerankan tokoh Lee Hye Won
Jang Seung Jo memerankan tokoh Yoon Jong Hoo
Park Hee Bon memerankan tokoh Cha Joo Eun (Joo Hyuk kakak perempuan)
Cha Kwang Soo memerankan tokoh Joo Hyuk's father
Oh Ui Shik memerankan tokoh Oh Sang Shik
Lee Jung Eun memerankan tokoh Woo Jin's mother
Son Jong Hak memerankan tokoh Cha Bong Hee
Park Won Sang memerankan tokoh Byun Sung Woo
Cha Hak Yeon memerankan tokoh Kim Hwan
Kim Soo Jin memerankan tokoh Jang Man Ok
Kim So Ra memerankan tokoh Joo Hyang Sook
Gong Min Jung memerankan tokoh Choi Hye Jung
Kang Hee (강희) memerankan tokoh Jung Min Soo
Lee Yoo Jin memerankan tokoh Jung Hyun Soo
Jun Suk Ho memerankan tokoh drunken customer (ep.4)
Sinopsis Familiar Wife Episode 1-Tamat Lengkap
klik drama terbaru : Sinopsis Your Honor [Yoon Si Yoon & Lee Yoo Young]
== TAMAT ==