Sinopsis Drama The Smile Has Left Your Eyes Episode Lengkap dan Pemerannya. Serial kdrama terbaru yang ditayangkan pada akhir bulan September 2018 ini akan mengambil tema Misteri dan Thriller.
The Smile Has Left Your Eyes Episode adalah serial remake yang diadaptasi dari drama Jepang berjudul "Sora Kara Furu Ichioku no Hoshi" yang ditayangkan oleh channel Fuji TV tahun 2002 sebanyak 11 episode saja. Dan untuk versi jepangnya, drama jepang ini dibintangi oleh Kimura Takuya, Akashiya Sanma, Fukatsu Eri dan masih banyak lagi.
Drama korea yang dijadwalkan tayang perdana pada 26 September 2018 ini bakal menampilkan pemain dan pemeran utama kelas atas. Mereka adalah aktor Seo In Guk yang akan memerankan karakter dari Kim Moo Young. Aktor kelahiran 23 Oktober 1987 ini tentu saja sudah sering tampil di layar TV membintangi serial drama, drakor terakhirnya adalah pada tahun 2016 dengan judul "Shopping King Louie".
Sebagai lawan mainnya, Seo In Guk akan bermain dengan aktris cantik yang bekalangan sangat populer setelah membintangi serial drama "Because This Is My First Life" bersama Lee Min Ki tahun 2017 kemarin. Kali ini Jung So Min akan memainkan karakter wanita bernama Yoo Jin Kook, dan kdrama The Smile Has Left Your Eyes menjadi drama keduanya di tahun 2018 setelah sebelumnya ia menjadi cameo dalam serial What's Wrong With Secretary Kim.
| | |
| --- | --- |
| Judul Drama | 하늘에서 내리는 일억개의 별 / The Smile Has Left Your Eyes |
| Judul Lainnya | Hundred Million Stars from the Sky |
| Genre / Tema | Mistery, Thriller |
| Jumlah Episode | 16 episode |
| Channel TV | tvN |
| Jadwal Tayang | 26 September 2018 sampai 15 November 2018 |
| Tayang setiap  | tayang setiap hari Rabu dan Kamis, jam 21:30 waktu KST |
Sinopsis Singkat The Smile Has Left Your Eyes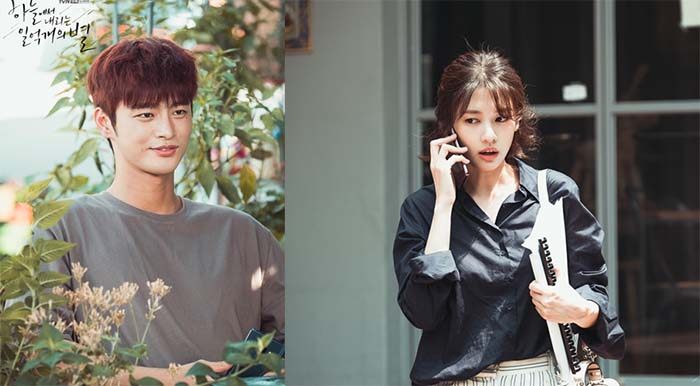 Pemeran utama serial drakor The Smile Has Left Your Eyes atau judul lainnya Hundred Million Stars from the Sky ini adalah Seo In Guk dan Jung So Min. Untuk alur ceritanya sendiri berfokus pada kisah seorang detektif yang berencana untuk berhenti dari pekerjaannya. Tetapi sebelum ia mengambil keputusan itu, ia sebelumnya mengambil kasus pembunuhan seorang mahasiswa yang kematiannya disamarkan menjadi kasus bunuh diri. Sang detektif pun akhirnya terobsesi untuk menyelesaikan kasus tersebut dan ingin membuktikan bahwa kasus itu adalah kasus pembunuhan dan bukan kasus bunuh diri.
Detektif itu pun memiliki seorang adik perempuan, dan disuatu hari adiknya bertemu dengan pria misterius yang tak ingat bagaimana akan masa kecilnya. Pria itu sebenarnya bukan orang baik, namun adiknya bersimpati padanya.
Si detektif itu pun mencoba untuk memisahkan pria dan adik perempuannya ini. Hingga pada akhirnya, si detektif menduga bahwa pria itu pernah terlibat dalam kasus pembunuhan mahasiswa wanita. Akan tetapi adiknya dengan di sip ria misterius itu malah saling jatuh cinta. Haduh gimana ini yah?
Dalam teaser yang diberikan channel TVN ini hanya menampilkan seorang pria dengan pemeran Seo In Guk sedang berdiri di atap Gedung yang sangat tinggi, seakan-akan dia akan melompat untuk bunuh diri. Disisi lain ada wanita yang diperankan oleh Jung So Min lari terhegeh-hegeh menghampiri Seo In Guk dan memegang tangannya.
baca: Sinopsis Because This Is My First Life [Lee Min Ki & Jung So Min]
Chinggu pasti sangat penasaran dengan drakor ini yah? Tapi penasaran yang mana nih? Penasaran denggan charisma Seo In Guk Oppa apa sama ceritanya? Kalo penasangan dengan kisah ceritanya, yuk mari langsung saja kita baca sinopsis drama Hundred Million Stars from the Sky atau The Smile Has Left Your Eyes dibawah ini.
Pemain Pemeran The Smile Has Left Your Eyes
Seo In Guk memerankan tokoh Kim Moo Young
Jung So Min memerankan tokoh Yoo Jin Kang
Park Sung Woong memerankan tokoh Yoo Jin Kook
Seo Eun Soo memerankan tokoh Baek Seung Ah
Do Sang Woo memerankan tokoh Jang Woo Sang
Go Min Shi memerankan tokoh Im Yoo Ri
Lee Hong Bin memerankan tokoh Noh Hee Joon
Lee Ji Min memerankan tokoh Assistant Manager Im
Han Sa Myung memerankan tokoh Lee Jae Min
Kim Seo Kyung memerankan tokoh Hwang Gun
Park Min Jung memerankan tokoh CEO Hwang
Jang Young Nam memerankan tokoh Tak So Jung
Choi Byung Mo memerankan tokoh Lee Kyung Chul
Han Da Sol
Kwon Soo Hyun
baca: Sinopsis 100 Days My Prince / Hundred Days' Husband [Do Kyung So EXO]
Trailer atau Teaser The Smile Has Left Your Eyes
Sinopsis The Smile Has Left Your Eyes Episode 1 – Tamat
Note: Jangan lupa share ya chinggu, biar makin semangat updatenya 😀
== TAMAT ==