Drama korea terbaru 2017 terbaik tayang Januari sampai Desember. Tahun 2017 memang sudah akan berakhir, nah dipenghujung tahun 2017 ini ada acara bernama "The Best Korean Drama of 2017" yang digunakan untuk menilai dan memilih drama korea terbaik 2017 berdasarkan voting yang dilakukan permisa atau pecinta drama korea di seluruh dunia. Acara voting ini sudah dimulai sejak 15 November 2017 dan akan berakhir pada 30 November 2017. Dari 112 drama korea yang masuk nominasi akan dipilih 8 drama korea teratas dan paling banyak votingnya. Sobat yang pengen voting bisa langsung masuk ke link "The Best Korean Drama of 2017".
Jika sobat arena sudah ketinggalan voting atau ingin melihat drama korea apa saja yang masuk dalam nominasi, sobat jangan berkecil hati karena dikesempatan kali ini admin wekepo akan memberikan rangkumannya.
Drama korea terbaru 2017 yang akan kami berikan disini tentu saja drama korea yang sudah masuk dalam nominasi The Best Korean drama of 2017, sehingga bisa sobat gunakan sebagai referensi saat buntu atau pengen nonton drama korea terbaru 2017.
Berbagai tema dan genre turut dihadirkan untuk menemani sobat arena semuanya, mulai dari drama korea komedi romantis, drama korea tema sekolah, drama korea tema kerajaan, drama korea lucu hingga drama korea fantasi yang biasanya menggabungkan antara masa sekarang dan kembali ke masa dulu atau masa depan menggunakan Lorong waktu.
112 Drama Korea 2017 Tayang Januari sampai November
Daftar drama korea terbaru 2017 ini juga yang mampu meraih rating tinggi dan terpopuler. Tanpa berlama-lama lagi, berikut adalah daftar drama korea terbaru 2017 dari A sampai Z yang ditayangkan di bulan Januari sampai November dan masuk dalam nominasi "The Best Korean Drama Of 2017".
1# 109 Unusual Things Have Happened (NAVER tvcast)
Pemain 109 Unusual Things Have Happened : Choi Tae Joon, Jung Chae Yun, Kim Tae Yoon, Jo Seung-Hee
Judul Drama Korea 2017 : 109 별일 다 있네 / 109 Unusual Things Have Happened
Judul China: 109什么事都有
Judul Lainnya: 109 Strange Things
Genre: Romance, Scifi, Fantasy
Jumlah Episode : 6
Channel Televisi NAVER tvcast
Jadwal tayang drama : 1 Feb 2017 sampai 16 Feb 2017
Disiarkan setiap hari : Rabu dan Kamis, pukul 10:00
2# 20th Century Boy and Girl (MBC)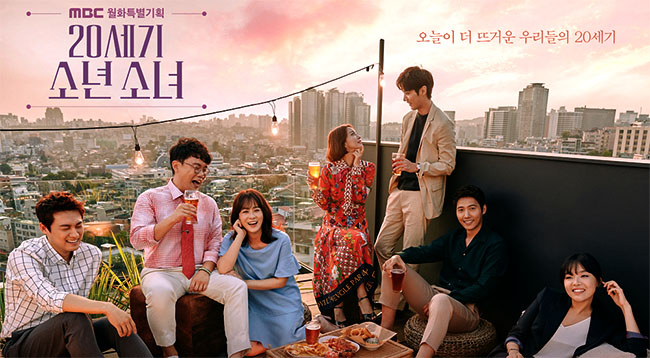 Pemain 20th Century Boy and Girl : Han Ye-Seul, Lee Sang Woo, Ryu Hyun-Kyung, Lee Sang Hee, Ahn Se Ha, Oh Sang Jin
Judul Drama: 20세기 소년소녀 / 20th Century Boy and Girl
Judul Lainnya: Twentieth Century Boy and Girl / Boy and Girl From the 20th Century
Judul sebelumnya : No Sex in the City
Judul China: 20世紀少男少女
Genre: Romance, Comedy
Jumlah Episode : 32 (35 menit/episode)
Channel Televisi MBC
Jadwal tayang drama : 9 Okt 2017 sampai 28 Nov 2017
Disiarkan setiap hari : Senin dan Selasa, pukul 22:00 (2 episode per harinya)
3# Age of Youth 2 (jTBC)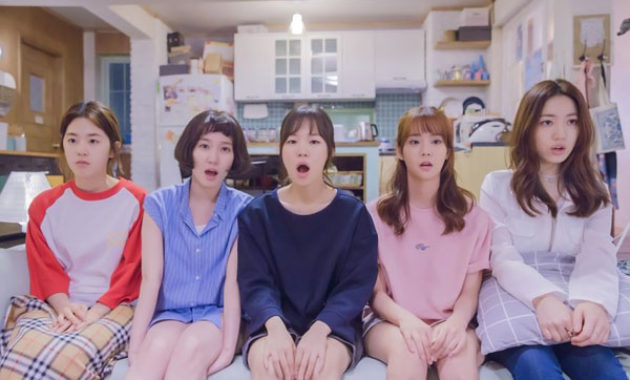 Pemain Age of Youth 2 : Han Ye-Ri, Han Seung-Yeon, Park Eun-Bin, Ji Woo, Choi Ah Ra
Judul Drama Korea 2017: 청춘시대 2 / Age of Youth 2
Judul China: 青春時代 2
Genre: Melodrama, Romance, Comedy
Jumlah Episode : 14
Channel Televisi jTBC
Jadwal tayang drama : 25 Agustus 2017 sampai 7 Okt 2017
Disiarkan setiap hari : Jumat dan Sabtu, jam 23:00
Seri Terkait : Age of Youth (Season 1)
4# All Kinds of Daughters-in-Law (MBC)
Pemain All Kinds of Daughters-in-Law : Ham Eun-Jung, Lee Joo Yeon, Kang Kyung Joon, Cha Do Jin
Judul Drama: 별별 며느리 / All Kinds of Daughters-in-Law
Judul China: 多樣的兒媳
Judul Lainnya: Unique Daughters-in-Law
Genre: Family, Romance
Jumlah Episode : 100
Channel Televisi MBC
Jadwal tayang drama : 5 Juni 2017 sampai 14 Nov 2017
Disiarkan setiap hari : Senin sampai Jumat, setiap jam 20:55
5# Always Spring (MBC)
Pemain Always Spring : Sun Woo Jae-Duk, Kang Byul, Park Jung Wook, Kim So Hye, Kwon Hyun Sang
Judul Drama: 언제나 봄날 / Always Spring
Judul China: 總是春天的日子
Genre: Melodrama, Romance
Jumlah Episode : 122
Channel Televisi MBC
Jadwal tayang drama : 31 Okt 2016 sampai 21 April 2017
Disiarkan setiap hari : Senin sampai Jumat, setiap jam 07:50
6# Argon (tvN)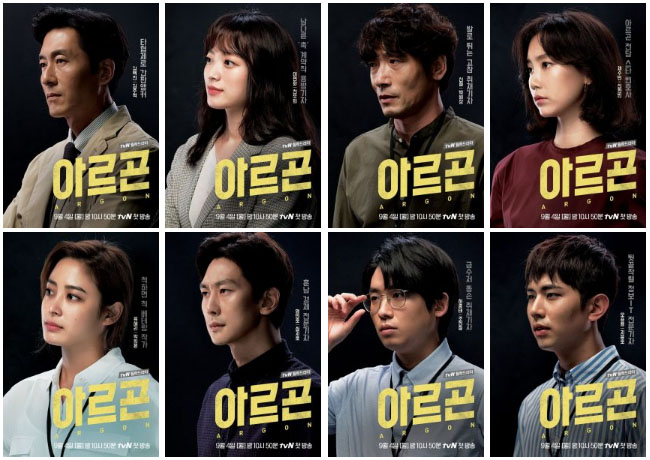 Pemain Argon : Kim Joo-Hyuk, Chun Woo-Hee, Park Won Sang, Shin Hyun Bin, Park Hee Bon, Shim Ji Ho
Judul Drama: 아르곤 / Argon
Genre: Politic, Office
Channel Televisi tvN
Jumlah Episode : 8
Jadwal tayang drama : 4 September 2017 sampai 26 Sept 2017
Disiarkan setiap hari : Senin dan Selasa, pukul 22:50
7# Avengers Social Club (tvN)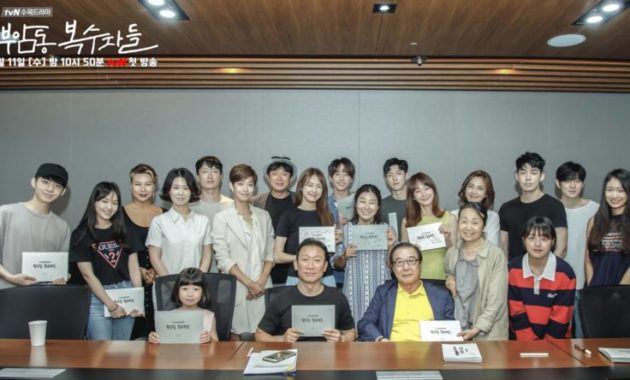 Pemain Avengers Social Club : Lee Yo Won, Ra Mi Ran, Myung Se Bin, Jun, Choi Byung Mo, Jang Yong, Jung Ae Yun
Judul Drama Korea 2017: 부암동 복수자들 / Avengers Social Club
Judul Lainnya: Buam-dong Revenge Social Club / Buam-dong Revengers
Judul China: 付岩洞復仇者們
Genre: Friendship, Revenge
Channel Televisi tvN
Jumlah Episode : 12
Jadwal tayang drama : 11 Okt 2017 sampai 16 Nov 2017
Disiarkan setiap hari : Rabu dan Kamis, pukul 21:30
8# Bad Thief, Good Thief (MBC)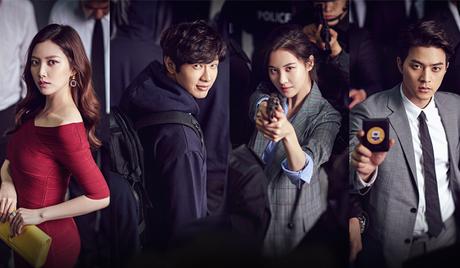 Pemain Bad Thief, Good Thief : Seohyun, Ji Hyun Woo, Im Joo-Eun, Kim Ji Hoon, Ahn Kil Kang
Judul Drama: 도둑놈, 도둑님 / Bad Thief, Good Thief
Judul China: 小偷傢伙,小偷大人
Judul Lainnya: Jerk Thief, Honorable Thief / Thief-nom, Thief-nim
Genre: Romance, Comedy
Jumlah Episode : 50
Channel Televisi MBC
Jadwal tayang drama : 13 Mei 2017 sampai 5 Nov 2017
Disiarkan setiap hari : Sabtu dan Minggu, jam 22:00
9# Because This Is My First Life (tvN)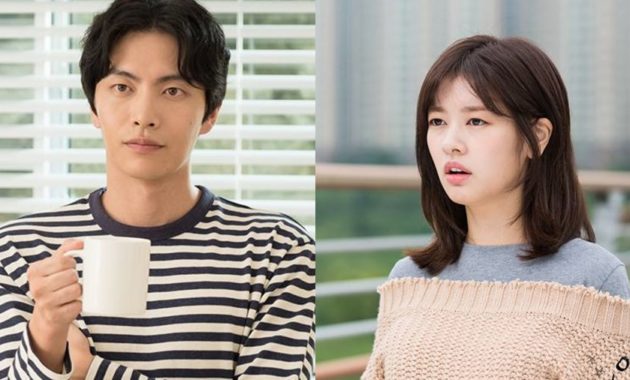 Pemain Because This Is My First Life : Lee Min Ki, Jung So Min, Kim Eung Soo, Moon Hee-Kyung, Kim Byung-Ok, Kim Sun-Young
Judul Drama Korea 2017: 이번 생은 처음이라 / Because This Is My First Life
Judul China: 今生是第一次
Judul Lainnya: This Life is Our First Life
Genre: Romance, Comedy
Channel Televisi tvN
Jumlah Episode : 16
Jadwal tayang drama : 9 Okt 2017 sampai 28 Nov 2017
Disiarkan setiap hari : Senin dan Selasa, pukul 22:50
10# Black (OCN)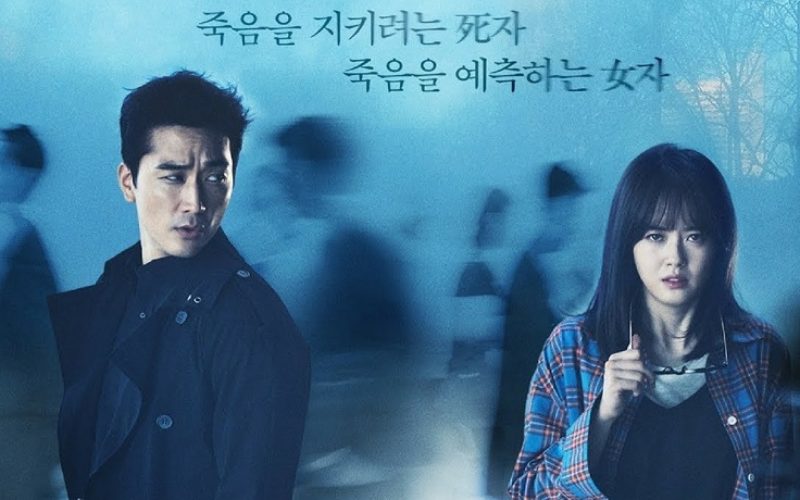 Pemain Drama Black : Song Seung Hun, Go Ah-Ra, Kim Dong Joon, Lee El, Jo Jae-Yoon, Lee Kyu-Bok
Judul Drama: 블랙 / Black
Genre: Romance, Crime, Thriller, Fantasy
Jumlah Episode : 18 (To Be Confirmed)
Channel Televisi OCN
Jadwal tayang drama : 14 Okt 2017 sampai 10 Des 2017
Disiarkan setiap hari : Sabtu dan Minggu, jam 22:20
11# Blow Breeze (MBC)
Pemain Blow Breeze : Son Ho Joon, Yoon Chan-Young, Im Ji-Yun, Lee Young-Eun, Oh Ji-Eun, Han Joo-Wan, Hwang Bo-Ra, Jang Se-Hyun
Judul Drama: 불어라 미풍아 / Blow Breeze
Judul China: 吹吧,微風啊!
Judul Lainnya: Blow It, Mi Poong!
Genre: Family, Romance
Jumlah Episode : 53 (50+3)
Channel Televisi MBC
Jadwal tayang drama : 27 Agustus 2016 sampai 26 Februari 2017
Disiarkan setiap hari : Sabtu dan Minggu, jam 20:45
12# Borg Mom (MBC)
Pemain drama Borg Mom : Yang Dong-Geun, Park Han Byul, Ivy, Choi Yeo-Jin, Hwang Bo-Ra, Jung Yi-Rang
Judul Drama: 보그맘 / Borg Mom
Judul sebelumnya : Our Mom is Recharging
Judul China: 時尚媽咪
Genre: Sitcom, science fiction
Jumlah Episode : 12
Channel Televisi MBC
Jadwal tayang drama : 15 Sept 2017 sampai 5 Desember 2017
Disiarkan setiap hari : Jumat, jam 21:50
13# Bride of the Water God (tvN)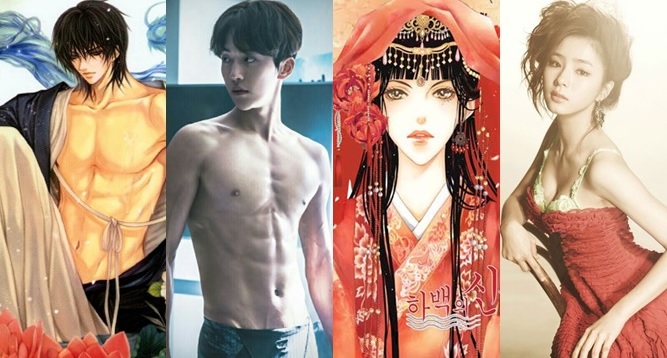 Pemain Bride of the Water God 2017 : Nam Joo-Hyuk, Shin Se-Kyung, Choi Ji-Won, Im Ju-Hwan, Krystal Jung, Gong Myung
Judul Drama Korea 2017 : 하백의 신부 2017 / Bride of the Water God 2017
Judul Lainnya: The bride of Habaek
Judul China: 河伯的新娘 2017
Genre: Fantasy, Romance, Comedy
Channel Televisi tvN
Jumlah Episode : 16
Jadwal tayang drama : 3 Juli 2017 sampai 22 Agustus 2017
Disiarkan setiap hari : Senin dan Selasa, pukul 22:50
14# Chicago Typewriter (tvN)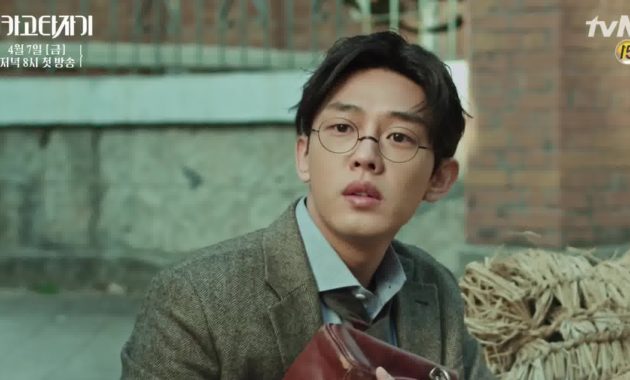 Pemain Chicago Typewriter : Yoo Ah-In, Im Soo Jung, Choi Myung-bin, Go Kyung-Pyo, Kwak Si-Yang, Ji Woo Jin
Judul Drama: 시카고 타자기 / Chicago Typewriter
Judul China: 芝加哥打字機
Genre: Fantasy, Romance, Comedy
Jumlah Episode : 16
Channel Televisi tvN
Jadwal tayang drama : 7 April 2017 sampai 3 Juni 2017
Disiarkan setiap hari : Jumat dan Sabtu, jam 20:00
15# Chief Kim (KBS2)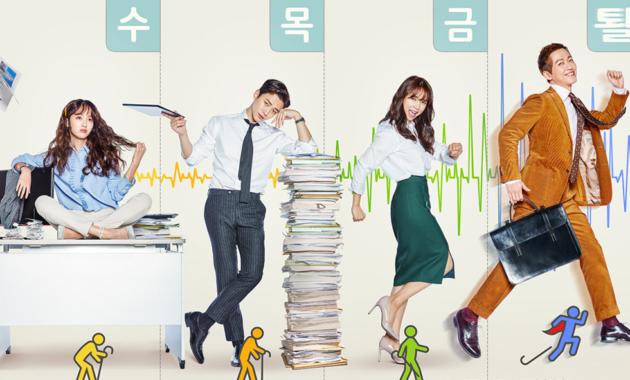 Pemain Chief Kim : Nam Goong Min, Nam Sang-Min, Lee Joon-Ho, Jung Hye-Sung
Judul Drama: 김과장 / Chief Kim
Judul China: 金科長
Judul Lainnya: Good Manager
Genre: Comedy, Office
Jumlah Episode : 20
Channel Televisi KBS2
Jadwal tayang drama : 25 Januari 2017 30 Maret 2017
Disiarkan setiap hari : Rabu dan Kamis, pukul 22:00
16# Circle (tvN)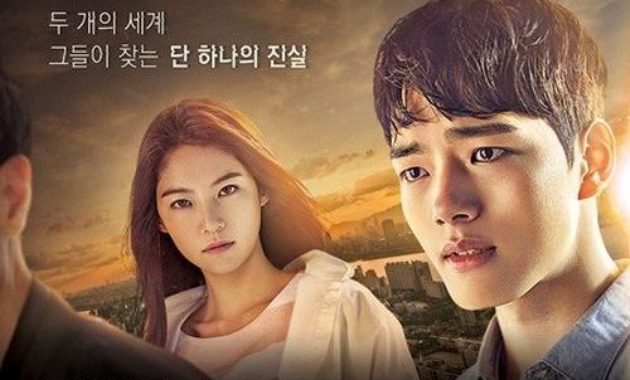 Pemain Circle : Yeo Jin-Goo, Kim Kang-Woo, Gong Seung-Yun, Lee Ki-Kwang, Ahn Woo-Yeon, Jung In-Sun, Kim Ye-Joon
Judul Drama Korea 2017 : 써클 : 이어진 두 세계 / Circle
Judul China: Circle:相連的兩個世界
Judul Lainnya: Circle: Two Connected Worlds
Genre: Sci-fi, Mystery
Channel Televisi tvN
Jumlah Episode : 12
Jadwal tayang drama : 22 Mei 2017 sampai 27 Juni 2017
Disiarkan setiap hari : Senin dan Selasa, pukul 23:00
17# Criminal Minds (tvN)
Pemain Criminal Minds: Lee Joon Ki, Kang Yi-Suk, Son Hyun-joo, Moon Chae-Won, Jung Ye-In, Yoo Sun, Lee Sun Bin, Go Yoon, Kim Young-Chul
Judul Drama: 크리미널 마인드 / Criminal Minds
Judul China: 犯罪心理
Genre: Crime, Police, Investigation
Channel Televisi tvN
Jumlah Episode : 20
Jadwal tayang drama : 26 Juli 2017 28 Sept 2017
Disiarkan setiap hari : Rabu dan Kamis, pukul 22:50
18# Defendant (SBS)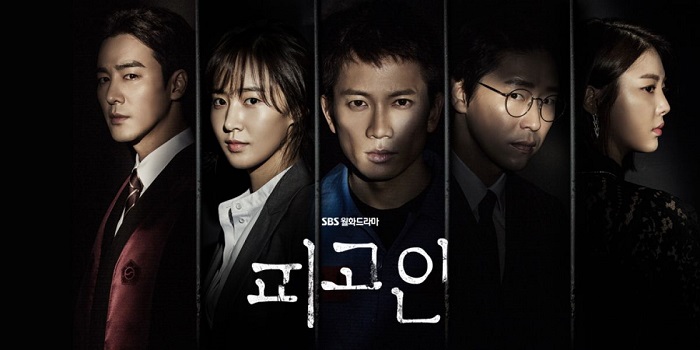 Pemain Defendant : Ji Sung, Uhm Ki-joon, Han Ki-Woong, Kwon Yoo-Ri, Oh Chang Suk, Uhm Hyun-Kyung
Judul Drama Korea 2017 : 피고인 / Defendant
Judul China: 被告人
Genre: Legal, Thriller
Jumlah Episode : 18 (16+2)
Channel Televisi SBS
Jadwal tayang drama : 23 Januari 2017 sampai 21 Maret 2017
Disiarkan setiap hari : Senin dan Selasa, pukul 22:00
19# Deserving of the Name (tvN)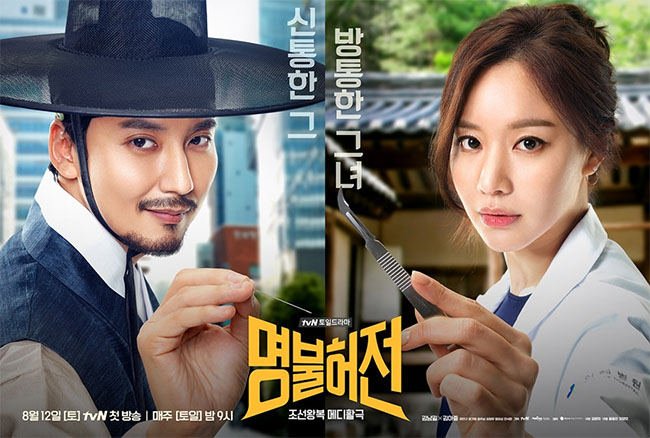 Pemain Deserving of the Name : Kim Nam-Gil, Shin Rin-Ah, Moo Ga-Young, Kim Byung-Choon, Oh Dae-Hwan, Kin Sun-Kyu, Choi Jae-Sup
Judul Drama: 명불허전 / Deserving of the Name
Judul China: 名不虛傳
Judul Lainnya: Live Up to Your Name, Dr. Heo
Genre: Historical, Fantasy, Medical, Comedy
Channel Televisi tvN
Jumlah Episode : 16
Jadwal tayang drama : 12 Agustus 2017 1 Okt 2017
Disiarkan setiap hari : Sabtu dan Minggu, jam 21:00
20# Devil Inspector (NAVER tvcast)
Pemain Devil Inspector : Kim Nam-Joo, Ahn Hyung-Sub, Yoo Seon-Ho, Lee Soo-Min, Heo Eun-Jung
Judul Drama: 악동탐정스 / Devil Inspector
Judul Lainnya: Bad Boy Detective
Judul China: 淘氣鬼偵探
Genre: Comedy, detective, mystery, school, youth
Jumlah Episode : 9
Channel Televisi NAVER tvcast
Jadwal tayang drama : 12 Sept 2017 sampai 28 Sept 2017
Disiarkan setiap hari : Selasa sampai Kamis, setiap jam 10:00
Drama Korea 2017 Nominasi The Best Korean Drama
21# Duel (OCN)
Pemain Drama Duel : Jung Jae-Yong, Kim Jung Eun, Yang Se-Jong, Seo Wun-Soo, Lee Na Yoon, Yoong Kyung-Ho
Judul Drama Korea 2017 : 듀얼 / Duel
Genre: Detective, crime, thriller, science fiction
Jumlah Episode: 16
Channel Televisi: OCN
Jadwal Tayang drama : 3 Juni 2017 sampai 23 Juli 2017
Disiarkan setiap hari : Sabtu dan Minggu, mulai pukul 22:00 (ep 1&2)
22# Falsify (SBS)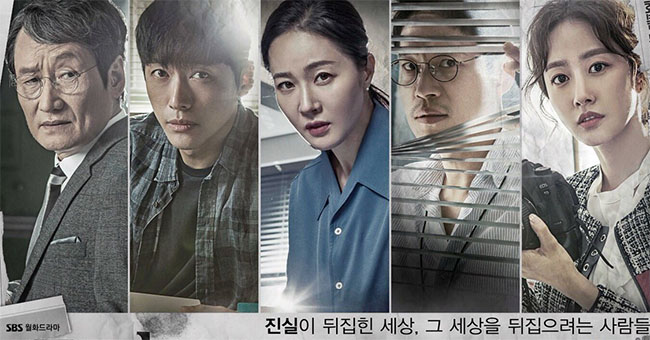 Pemain Falsify : Nam Goong-Min, Uhm Ji-Won, Yoo Joon-Sang, Moon Sung-Geun, Oh Jung-Se, Joo Hee-Bong
Judul Drama : 조작 / Falsify
Judul China: 操作
Judul Lainnya: Fabrication / Manipulation
Genre: Legal, Thriller, Political
Jumlah Episode: 32 (35 menit/episode)
Channel Televisi: SBS
Jadwal Tayang drama : 24 Juni 2017 sampai 2017
Disiarkan setiap hari : Senin dan Selasa, mulai jam 22:00 (2 episode per hari)
23# Father, I'll Take Care of You (MBC)
Pemain Father, I'll Take Care of You : Kim Jae-Won, Park Eun-Bin, Lee Tae-Hwan, Lee Soo-Kyung, Kim Yong-Rim, Seo Dong-Won
Judul Drama : 아버님 제가 모실게요 / Father, I'll Take Care of You
Judul China: 爸爸,我來伺候你
Genre: Family
Jumlah Episode: 50
Channel Televisi: MBC
Jadwal Tayang drama : 2016-Nov-12 to 2017-May-07
Disiarkan setiap hari : Sabtu dan Minggu, mulai pukul 22:00
24# Father is Strange (KBS2)
Pemain Father is Strange : Kim Young-Chul, Kim Hae-Sook, Min Jin-Woong, Lee Yoo-Ri, Jung So-Min, Ryu Hwa-Young
Judul Drama : 아버지가 이상해 / Father is Strange
Judul China: 爸爸好奇怪
Judul Lainnya : Father is Weird
Genre: Family, Comedy
Jumlah Episode: 52
Channel televisi : KBS2
Jadwal Tayang drama : 4 Maret 2017 sampai dengan 27 Agustus 2017
Disiarkan setiap hari : Sabtu dan Minggu, mulai pukul 19:55
25# First Love Again (KBS2)
Pemain First Love Again : Myung Se-Bin, Kim Seung Soo, Park Jung Chul, Wang Bit Na, Lee Duk Hee, Seo Ha, Kang Nam-Gil
Judul Drama : 다시, 첫사랑 / First Love Again
Judul China: 再次,初戀
Genre: Romance
Jumlah Episode: 104
Channel Televisi: KBS2
Jadwal Tayang drama : 28 Nov 2016 sampai dengan 21 April 2017
Disiarkan setiap hari : Senin sampai Jumat, mulai jam 19:50
26# Girls' Generation 1979 (KBS2)
Pemain Girls' Generation 1979 : Bona, Chae Seo-Jin, Seo Young-Joo, Lee Jong Hyun, Yeo Hoe-Hyun, Min Do-Hee
Judul Drama : 란제리 소녀시대 / Girls' Generation 1979
Judul Lainnya: Lingerie Girls' Generation
Judul China: 內衣少女時代
Genre: Youth, Romance, Mystery
Jumlah Episode: 8
Channel Televisi: KBS2
Jadwal Tayang drama : 11 Sep 2017 sampai dengan 03 Okt 2017
Disiarkan setiap hari : Senin dan Selasa, mulai jam 22:00
27# Go Back Couple (KBS2)
Pemain Go Back Couple : Son Ho Joon, Jang Na-Ra, Huh Jung-Min, Lee Yi-Kyung, Go Bo-Kyul, Im Ji-Kyu, Kim Byung Ok
Judul Drama : 고백부부 / Go Back Couple
Judul Lainnya: Go Back Spouses / Confession Couple / Confession Spouses
Judul China: 告白夫婦
Genre: Family, Fantasy
Jumlah Episode: 12 (35 menit/episode)
Channel Televisi: KBS2
Jadwal Tayang drama : 13 Okt 2017 sampai 18 Nov 2017
Disiarkan setiap hari : Jumat dan Sabtu, pukul 23:00 (2 episode per hari)
28# Goblin (tvN)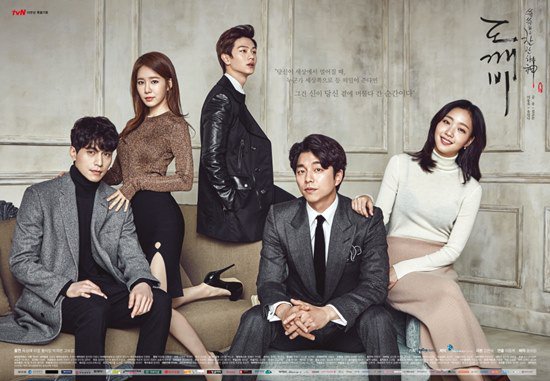 Pemain Goblin: Gong Yoo, Kim Go Eun, Lee Dong-Wook, Yoo In-Na, Yook Sung-Jae, Lee El, Kim Sung-Kyum
Judul Drama : 쓸쓸하고 찬란하神-도깨비 / Goblin
Judul Lainnya: The Lonely, Shining Goblin / Guardian : The Lonely and Great God
Judul China: 孤單又燦爛的神-鬼怪
Genre: Fantasy, Romance
Jumlah Episode: 16 + 1 Special
Channel Televisi: tvN
Jadwal Tayang drama : 2 Des 2016 sampai dengan 21 Jan 2017
Disiarkan setiap hari : Jumat dan Sabtu, pukul 20:00
29# Golden Pouch (MBC)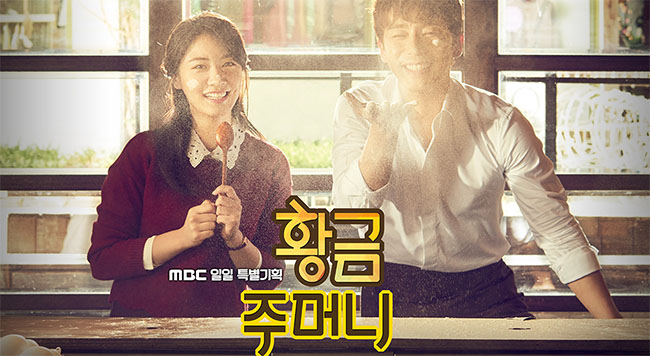 Pemain Golden Pouch : Kim Ji-Han, Ryu Hyo-Young, Lee Sun Ho, Ahn Nae-sang, Oh Young Shil, Dana, Baek Seo Yi
Judul Drama : 황금주머니 / Golden Pouch
Judul China: 黃金口袋
Judul Lainnya: Golden Pocket
Genre: Romance, Family
Jumlah Episode: 122
Channel Televisi: MBC
Jadwal Tayang drama : 2016-Nov-14 to 2017-June-01
Disiarkan setiap hari : Senin sampai Jumat, mulai jam 20:55
30# Hip Hop Teacher (NAVER tvcast)
Pemain Hip Hop Teacher : Lee joo Young, Yoo Ra, Ahn Woo Yeon, Zizo
Judul Drama : 힙한선생 / Hip Hop Teacher
Judul China: 嘻哈老師
Genre: Music, School, Comedy
Jumlah Episode: 10
Channel Televisi: jTBC, NAVER tvcast
Jadwal Tayang drama : 2017-Aug-14 to 2017-Aug-25
Disiarkan setiap hari : Senin sampai Jumat, mulai jam 07:00 (15 menit/episode)
31# Hospital Ship (MBC)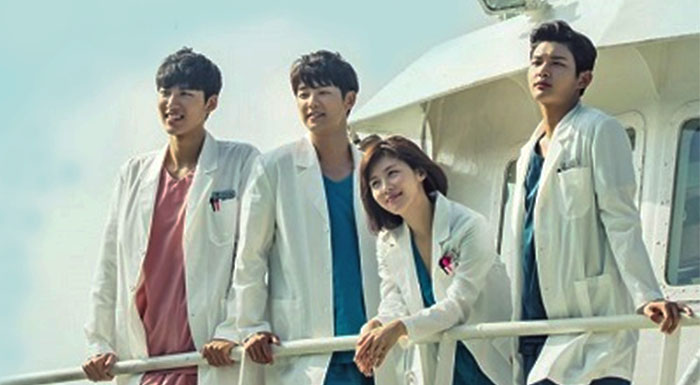 Pemain Hospital Ship: Ha Ji Won, Kang Min-Hyuk, Lee Seo-Won, Park Sun-Ho, Jun Noh-Min
Judul Drama : 병원선 / Hospital Ship
Judul China: 醫療船
Genre: Medical, Romance
Jumlah Episode: 40 (35 menit/episode)
Channel Televisi: MBC
Jadwal Tayang drama : 2017-Aug-30 to 2017-Nov-02
Disiarkan setiap hari : Rabu dan Kamis, mulai jam 22:00 (2 episode per hari)
32# Hwarang: The Beginning (KBS2)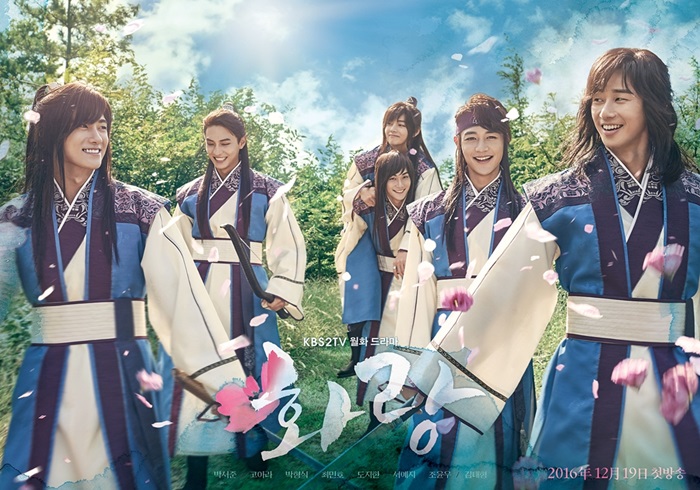 Pemain Hwarang: The Beginning : Park Seo-Joon, Kim yee Joon, Go Ah-Ra, Kang Joo Ha, Park Hyung-Sik, Choi Min-Ho, Do Ji-Han, Kim Tae-Hyung, Jo Yoon-Woo, Lee Pung-Woon
Judul Drama : 화랑 / Hwarang: The Beginning
Judul China: 花郎
Judul Lainnya: Flowering Knights / The Beautiful Knights / Flower Knights: The Beginning / Hwarang: The Poet Warrior Youth
Genre: Historical, Romance
Jumlah Episode: 20
Channel Televisi: KBS2
Jadwal Tayang drama : 2016-Dec-19 to 2017-Feb-21
Disiarkan setiap hari : Senin dan Selasa, mulai jam 22:00
33# Ice Binggoo (MBC)
Pemain Ice Binggoo: Kim Jug-Hyun, Han Sun-Hwa, Cha Joo-Young, Jung Ga-Ram, Kim Hee Chan, Ji Soo-Won, Tae Hang-Ho
Judul Drama : 빙구 / Ice Binggoo
Previously known as: 그리고, 봄 / And Spring
Genre: Romance, Fantasy
Channel Televisi: MBC
Jadwal Tayang drama : 2017-Feb-05 to 2017-Feb-12
Disiarkan setiap hari : Minggu, pukul 00:05
34# I'm Sorry Kang Nam Goo (SBS)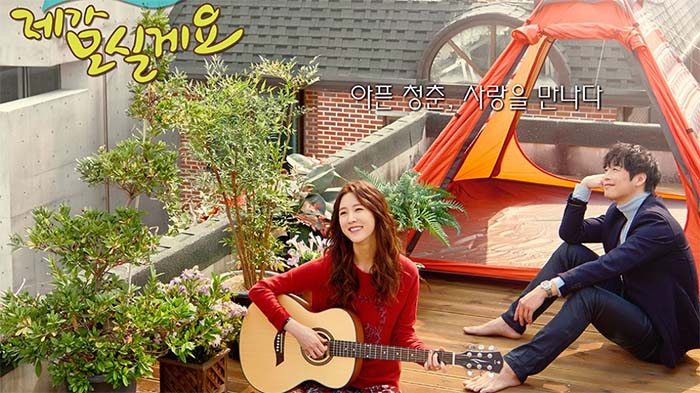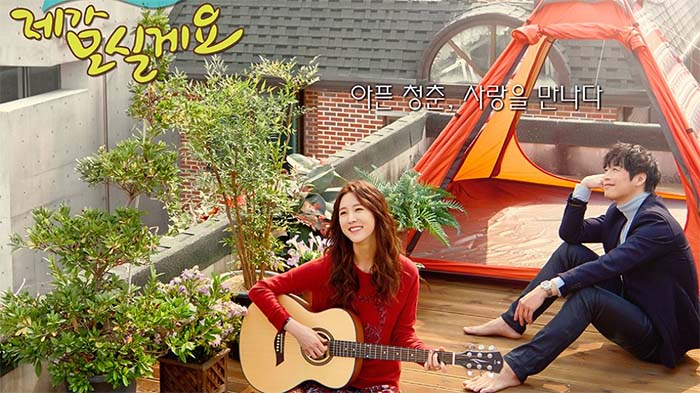 Pemain I'm Sorry Kang Nam Goo : Kim Min-Seo, Park Sun-Ho, Lee In, Na-Ya
Judul Drama : 아임 쏘리 강남구 / I'm Sorry Kang Nam Goo
Chinese Tile: 对不起姜南九
Genre: Romance, Family
Jumlah Episode: 120
Channel Televisi: SBS
Jadwal Tayang drama : 2016-Dec-19 to 2017-June-09
Disiarkan setiap hari : Senin sampai Jumat, mulai jam 08:30
35# Individualist Ms. Ji Young (KBS2)
Pemain Individualist Ms. Ji Young : Min Hyo-Rin, Kang Joo-Ha, Gong Myung, Oh Na-Ra, Jang Hee-Ryung
Judul Drama : 개인주의자 지영씨 / Individualist Ms. Ji Young
Judul China: 個人主義者智英小姐
Genre: Romance, Comedy
Jumlah Episode: 2
Channel Televisi: KBS2
Jadwal Tayang drama : 2017-May-08 to 2017-May-09
Disiarkan setiap hari : Senin dan Selasa, mulai jam 22:00
36# Introverted Boss (tvN)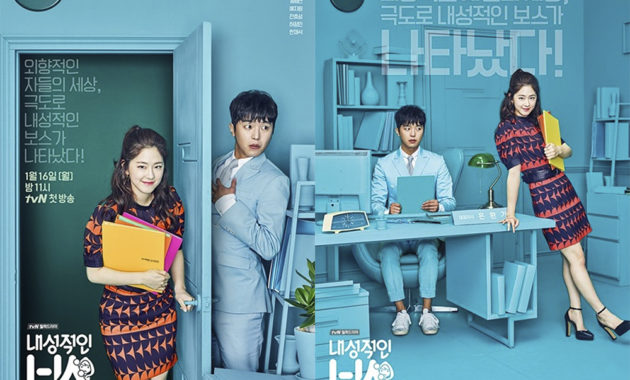 Pemain Introverted Boss : Yun Woo-Jin, Park Hye-Soo, Yoon Park, Gong Seung-Yun, Kim Eung-Soo, Kim Ye-Ryung
Judul Drama : 내성적인 보스 / Introverted Boss
Judul China: 內向的老闆
Judul Lainnya: Sensitive Boss
Genre: Office, Romance, Comedy
Channel Televisi: tvN
Jumlah Episode: 16
Jadwal Tayang drama : 2017-Jan-16 to 2017-March-14
Disiarkan setiap hari : Senin dan Selasa, mulai jam 23:00
37# Irish Uppercut (NAVER tvcast)
Pemain Irish Uppercut : Kim Ji-Suk, Yoon Bo-Ra, Kim Mi-Kyung, Jang So-Yun
Judul Drama : 아이리시 어퍼컷 / Irish Uppercut
Judul China: 爱尔兰上勾拳
Genre: Romance
Jumlah Episode: 8
Channel Televisi: NAVER tvcast
Jadwal Tayang drama : 2017-Apr-24 to 2017-May-15
Disiarkan setiap hari : Senin dan Selasa, mulai jam 23:00
38# Last Minute Romance (jTBC)
Pemain Last Minute Romance : Han Seung-Yeon, Lee Seo-Won, Kim So-Yi, Kian84, Oh Hee-Joon
Judul Drama : 막판 로맨스 / Last Minute Romance
Judul China: 終極羅曼史
Genre: Romance, Comedy
Jumlah Episode: 10
Channel Televisi: jTBC, NAVER tvcast
Jadwal Tayang drama : 2017-Oct-23 to 2017-Nov-03
Disiarkan setiap hari : Senin sampai Jumat, mulai jam 07:00 (15 menit/episode)
39# Lookout (MBC)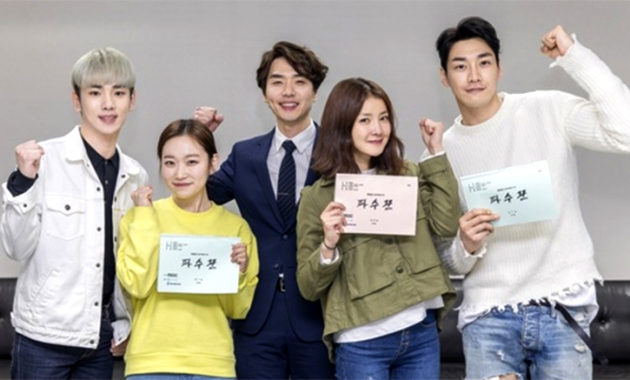 Pemain Lookout : Kim Young-Kwang, Lee Si-Young, Kim Tae-Hoon, Kim Seul-Gi, Key
Judul Drama : 파수꾼 / Lookout
Judul China: 守望者
Judul Lainnya: Bleak Night
Genre: Action, Crime
Channel Televisi: MBC
Jumlah Episode: 32
Jadwal Tayang drama : 2017-May-22 to 2017-July-11
Disiarkan setiap hari : Senin dan Selasa, mulai jam 22:00 (2 episode per hari)
40# Love is Drop by Drop (SBS)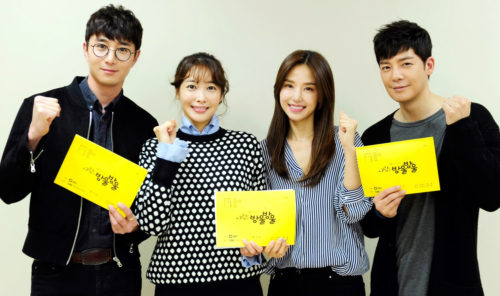 Pemain Love is Drop by Drop : Wang Ji-hye, Kang Eun-Tak, Gong Hyun-Joo, Kim Min Soo, Kang Dong-Ho
Judul Drama : 사랑은 방울방울 / Love is Drop by Drop
Judul China: 一滴一滴的愛
Judul Lainnya: Love Bubbles
Genre: Melodrama, Romance
Jumlah Episode: 120
Channel Televisi: SBS
Jadwal Tayang drama : 2016-Nov-28 to 2017-June-02
Disiarkan setiap hari : Senin sampai Jumat, mulai jam 19:20
41# Lovers in Bloom (KBS1)
Pemain Lovers in Bloom: Im Soo-Hyang, Do Ji-Han, Lee Gun-Ha, lee Chang-Wook, Lee Eun Wook, Nam Bo-Ra
Judul Drama: 무궁화 꽃이 피었습니다 / Lovers in Bloom
Judul China: 無窮花開了
Judul lainnya: The Rose of Sharon Has Bloomed
Genre: Family, Romance
Jumlah Episode: 120
Channel Televisi : KBS1
Jadwal tayang mulai 29 Mei 2017 sampai 10 Nov 2017
Disiarkan setiap hari : Senin sampai Jumat, mulai pukul 20:25
42# Mad Dog (KBS2)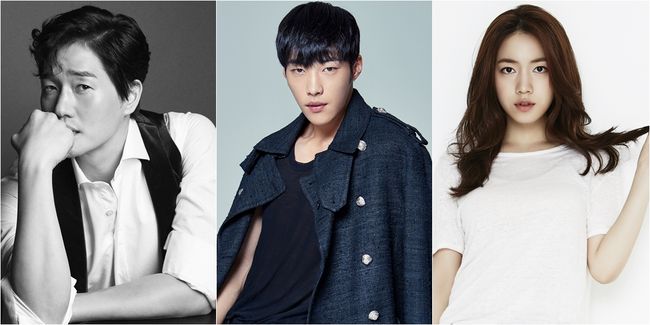 Pemain Mad Dog: Yoo Ji-Tae, Woo Do-Hwan, Ryu Hwa Young, Jo Jae Yoon, Kim Hye Sun, Hong Soo-Hyun, Jung Bo-Suk, Jang Hyuk-Jin
Judul Drama: 매드독 / Mad Dog
Judul China: 瘋狗
Genre: Crime, Investigation
Jumlah Episode: 16
Channel Televisi : KBS2
Jadwal tayang mulai 11 Okt 2017 sampai 30 Nov 2017
Disiarkan setiap hari : Rabu dan Kamis, mulai pukul 22:00
43# Magic School (NAVER tvcast)
Pemain Magic School: Jin Young, Yoon Park, Nichkhun, Ryu Seung-Soo, Shin Eun-Soo, Kang Yoon-Je, Park Kyu-Young
Judul Drama: 마술학교 / Magic School
Judul China: 魔術學校
Genre: School, Youth
Jumlah Episode: 20
Channel Televisi : jTBC, NAVER tvcast
Jadwal tayang mulai 11 Sep 2017 sampai 6 Okt 2017
Disiarkan setiap hari : Senin sampai Jumat, mulai pukul 07:00 (15 menit/episode)
44# Man to Man (jTBC)
Pemain Man sampai Man: Park Hae Jin, Kim Min Jung, Park Sung-Woong, Yun Jung-Hoon, Chae Jung Ahn, Jung Man Shik
Judul Drama: 맨투맨 / Man sampai Man
Judul China: 男人帮
Genre: Action, Thriller, Romance
Jumlah Episode: 16
Channel Televisi : jTBC
Jadwal tayang mulai 21 April 2017 sampai 10 Juni 2017
Disiarkan setiap hari : Jumat dan Sabtu, mulai pukul 23:00
45# Man Who Dies to Live (MBC)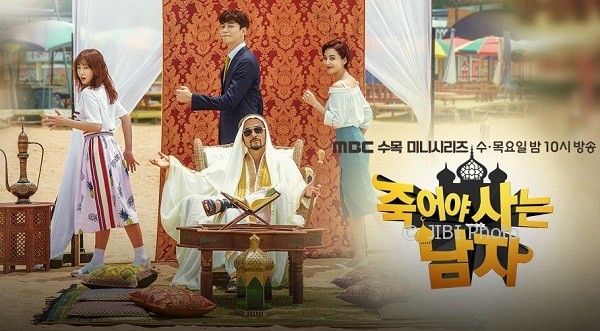 Pemain Man Who Dies sampai Live: Choi Min-Soo, Kang Ye Won, Shin Sung Rok, Lee So-Yeon
Judul Drama: 죽어야 사는 남자 / Man Who Dies sampai Live
Judul China: 死而復生的男人
Genre: Family, Comedy
Jumlah Episode: 24 (35 menit/episode)
Channel Televisi : MBC
Jadwal tayang mulai 19 Juli 2017 sampai 24 Agustus 2017
Disiarkan setiap hari : Rabu dan Kamiss, mulai jam 22:00 (2 episode per harinya)
46# Manhole: Feel So Good (KBS2)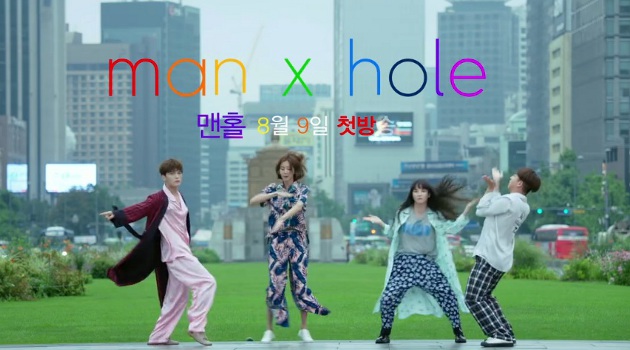 Pemain Manhole: Feel So Good : Kim Jae-Joong, UEE, Baro, Jung Hye-Sung, Lee Sang-Yi, Kang Hong Suk, Seo Min Ji
Judul Drama: 맨홀: 이상한 나라의 필 / Manhole: Feel So Good
Judul China: 人孔: 夢遊仙境的奉弼
Judul lainnya: Manhole: Wonderland's Feel / Manhole: Phil from Wonderland
Genre: Fantasy, Comedy, Romance
Jumlah Episode: 16
Channel Televisi : KBS2
Jadwal tayang mulai 9 Agustus 2017 sampai 28 Sept 2017
Disiarkan setiap hari : Rabu dan Kamis, mulai pukul 22:00
47# Meloholic (OCN)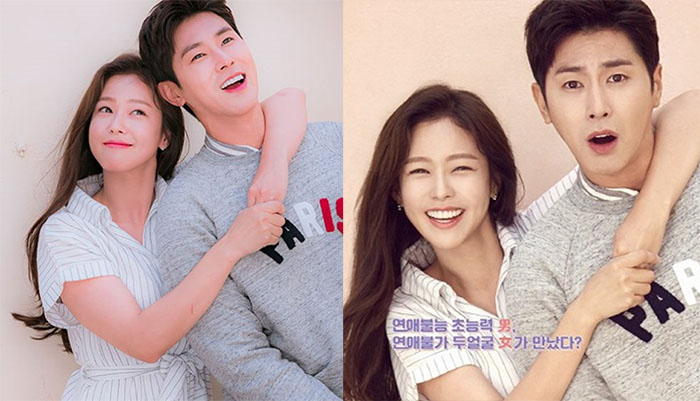 Pemain Meloholic: Jung Yoon-Ho, Kyung Soo-Jin, Choi Dae Chul, Ahn Sol Bin, Han Jae-Suk
Judul Drama: 멜로홀릭 / Meloholic
Judul China: 愛情中毒
Genre: Supernatural, Fantasy, Romance
Jumlah Episode: 10 (To Be Confirmed)
Channel Televisi : OCN
Jadwal tayang mulai 6 Nov 2017 sampai 5 Des 2017
Disiarkan setiap hari : Senin dan Selasa, jam 21:00
48# Missing Nine (MBC)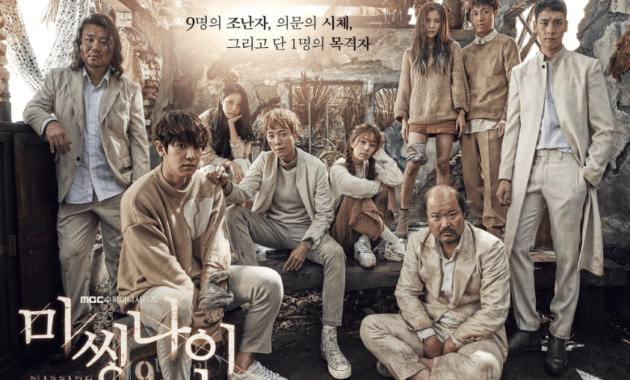 Pemain Missing Nine: Jung Kyung Ho, Baek Jin Hee, Choi Tae Joon, Lee SIn Bin, Park Chan Yeol, Oh Jung Se
Judul Drama: 미씽나인 / Missing Nine
Previously Known as: Gaia (가이아) / Picnic (피크닉) / Missing 9 (미씽9)
Genre: Mystery, Thriller, Melodrama
Jumlah Episode: 16 + 1 Special
Channel Televisi : MBC
Jadwal tayang mulai 12 Jan 2017 sampai 9 Maret 2017
Disiarkan setiap hari : Rabu dan Kamis, mulai pukul 22:00
49# My Only Love Song (Netflix)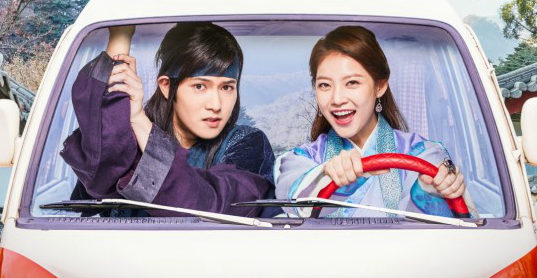 Pemain My Only Love Song: Lee Jong Hyun, Gong Seung Yun, Lee Jae Jin, Kim Yeon Seo, Ahn Bo Hyun, Park Joo Hyung
Judul Drama: 마이 온리 러브송 / My Only Love Song
Judul China: 我唯一的情歌
Genre: Fantasy, Historical, Romance, Comedy
Jumlah Episode: 20
Channel Televisi : Netflix
Jadwal tayang mulai 9 Juni 2017
Disiarkan setiap hari : Jumat, mulai jam 24:00
50# My Sassy Girl (SBS)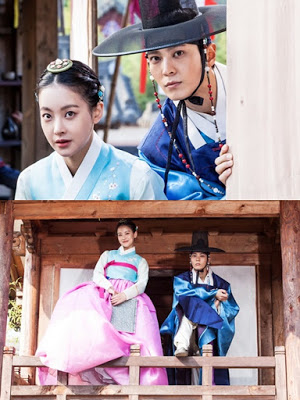 Pemain My Sassy Girl: Joo Won, Jun JIn Seo, Oh Yeon Seo, Kwon Soo Jung, Lee Jung Shin, Kim Yoon Hye, Son Chang Min
Judul Drama: 엽기적인 그녀 / My Sassy Girl
Judul China: 我的野蠻女友
Genre: Historical, Romance, Comedy
Jumlah Episode: 32 (30 menit/episode)
Channel Televisi : SBS
Jadwal tayang mulai 29 Mei 2017 sampai 18 Juli 2017
Disiarkan setiap hari : Senin dan Selasa, jam 22:00 (2 episode per harinya)
Halaman Selanjutnya…